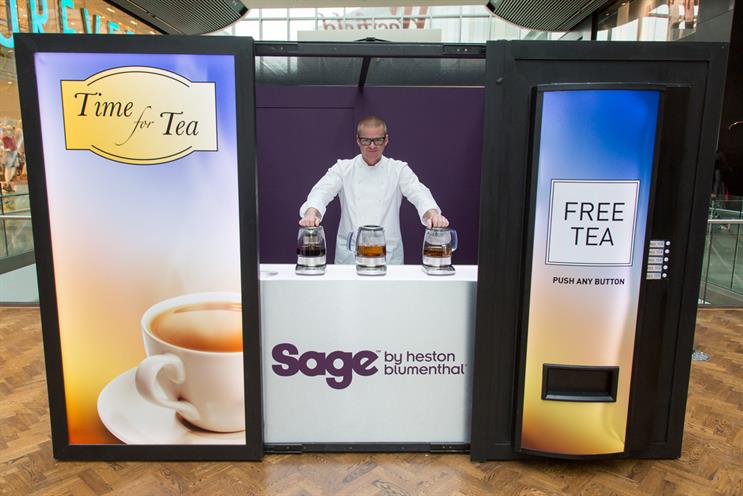 Tell us about the project. We wanted to create an event that we could share through social media channels, as well as kick off a wider social movement around tea.

How did you come up with the idea? We wanted to spring a surprise on the public. What better way of doing this than putting "the world's most famous chef" inside a fake tea-vending machine?
What preparations did you have to do to set up the tea vending machine? We built the tea machine off-site and tested it repeatedly to make sure that, on the day, it would work perfectly. Then, over a very long night, we rebuilt it in the shopping centre. We were at pains to fool the public into thinking it was a real tea machine – all be it with a very big surprise inside!

What reaction did you get on the day? It really was incredible. When the front of the tea machine opened and revealed Heston, there was a massive rush of people clambering to see him.
What was Blumenthal like to work with? I've been lucky to have worked quite a lot with Heston and, I've got to say, he's one of the most professional celebrities I've worked with. He's totally committed and passionate about this project of trying to get the public to make and enjoy great tea. You just have to make sure he's regularly refuelled with Earl Grey.

How do you brew the perfect tea? The two most critical elements when brewing the perfect cup of tea are time and temperature. Different teas release their tannins at different temperatures. If you brew too hot, then the bitter flavours overpower the tea, but too cool and you don't release enough flavour from the leaf. Whether you prefer green, oolong, herbal or black tea, the Sage Tea Maker automatically knows how hot and how long to brew for to ensure the perfect cuppa every time.

What's your next project? We're launching a second phase to the Sage tea campaign, which is designed to use the content we filmed to spark social debate and interaction about how much we know about our favourite hot drink and how we consume it.