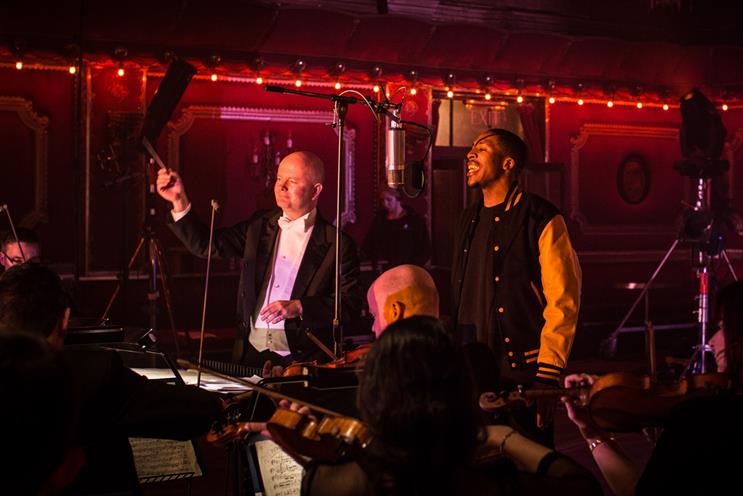 Tell us about the project. TH_NK approached me and the RPCO about a project that would blend poetry and music. I have never worked with an orchestra, and I realised this was an opportunity that couldn't be passed up.

How long did you get to rehearse? There were only a few rehearsal sessions before the first shoot. The orchestra was well-prepared and its experience shone through, enabling me to feel comfortable.
What themes did you use to write each poem? We went for a range of topics and themes to gain public interest but also with a view to addressing some current affairs and social issues. We go from name-dropping Derren Brown and Ant & Dec to talking about heartbreak and the loss of loved ones.

What was it like performing with an orchestra? Brilliant! Knowing the musicians were on top of the music really helped me perform my best.

In what other unusual settings have you performed? I did a retelling of Allen Ginsberg's Howl with jazz musicians last year. I've also recently worked with the Nomad Soul collective for a performance at Brainchild festival. A lot of the creative work I had been doing in recent times had offered some useful points of reference for the campaign.

How did you get into poetry? My mum used to buy me poetry books when I was little that I'd memorise bits and pieces from, most notably Roald Dahl's Wondercrump Poetry!. By the time I was 12, I'd already performed at the Polka Theatre as Caliban in The Tempest.

What inspires you? Much of my life outside of poetry has been about struggles with identity and the idea of equality. Whenever something happens that forces me to consider where I stand on a particular issue, I'm inspired to write as part of the process of making sense of it all.

What is your next project? I'm always busy with The A and The E – an arts project I run that seeks to open people up to discussions about gender, race and equality. We run a poetry night at the Bussey Building in Peckham and host a party at The Alibi in Dalston. Between those, I like to find time to do some writing and producing. We have a few extra-special events lined up: a collaboration with the W Project and an event at Central Saint Martins.