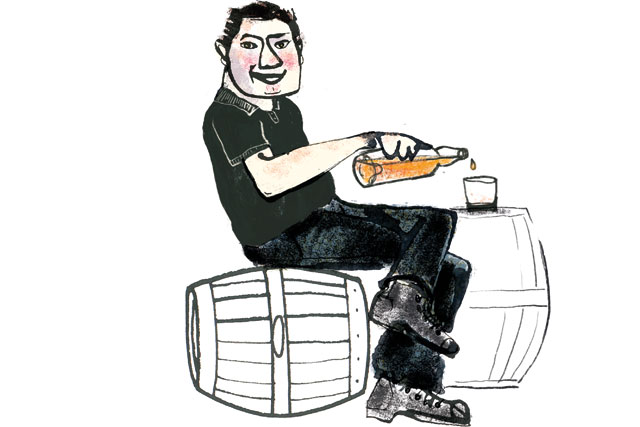 HOW: She says: "It was Benromach's idea to put their two stillmen, Keith and Mike, at the centre of the new creative. I drove up to the distillery in the dead of winter to meet them. The two of them make all of it by hand. Being there that day, drawing and observing them at their work, having a blether and getting a feel for their individual personalities was what inspired the initial illustrations."
INSIDE CALDER
How did you get into illustration? I did a foundation course at Cumbria College of Art and then applied to art school. You're wowed by the choices. It was a tutor who just said: "Jill, you can draw and you like telling stories, so why don't you do illustrations?" As soon as I overhear a conversation or start to read something, I begin thinking in pictures.
What inspires you? People-watching on public transport, on the street, anywhere really. I like everyday things that get overlooked - that's why in my work there are a lot of cups and saucers, pot plants and the jumble that surrounds us.
Who is your favourite illustrator? That changes all the time. The most consistent favourite, if I had to pick one, is Javier Mariscal. He's so down to earth. When I was finishing art school, I sent him an illustrated letter asking if I could come and meet him and he said yes! He has started posting iPad doodles on his Facebook page - definitely worth a look. I just love his humour.
What are your career highlights? Illustrating an entire edition of The New Yorker. I was actually commissioned by a financial organisation (MassMutual Financial Group) that wanted to advertise in it. The New Yorker is very strict about what is placed in the magazine. My client booked the entire magazine - ours were the only ads in that edition, all were my illustrations. We won an award for those ads and I was invited to the Conde Nast headquarters to meet all the big wigs. They even put up an exhibition of my work.