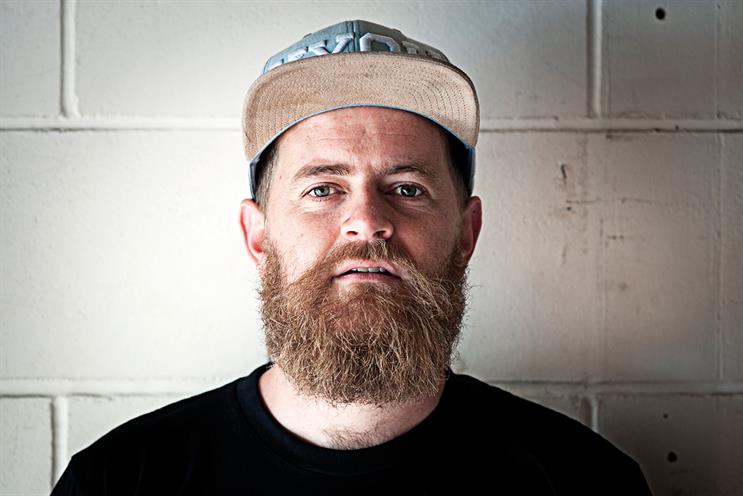 Tell us about the project. I've always wanted to make an old-school hip-hop track as it's something I've been brought up on. We also have easy access to some rad locations like Boscombe Pier, wide, lazy avenues and industrial estates, classic vehicles including American pick-ups, a Lamborghini, old Mercs and BMWs, talented people and a few other pieces of magic that all combine to be the basis of a hip-hop-themed video.
Why did you decide to do that rather than a TV ad? We can do a TV ad but it costs tons of dollar and you can get the same, if not more, views online provided you can win the "go viral" game. If we had budget, we may have created a 30-second edit, but we would have always made a full track. There needs to be so much more than just an ad these days. You've got to keep your "consumer" (ugh, what a word) in your firing line by taking them from one place to another, be it TV, YouTube, an experiential activation – anything.
Why did you decide to be the star? Having my name on the carton kind of helps push it in the direction of having this "Jimmy" guy actually perform the rap too. My/our mantra is "Keep your chin up", so why pay for someone else to perform it? It's really rare for a product or service to have the owner as the frontman or heart of the marketing push, and it's actually a really useful asset. All of our communication comes from myself – it's not some agency doing its best to sound like a made-up person.
Talk us through the process for the video. The lyrics were written by the innovations consultancy Fearlessly Frank. Deadbeat Films used the lyrics to create a storyboard and a friend created the music. About 18 of us got together to film the video. It took two solid days and nights to get it all filmed, followed by about a month of editing, grading and polishing.
What has been the biggest challenge in running your own business? The biggest is that your products are being sold by other people such as Tesco, BP and Waitrose. These guys are the gatekeepers for your business. That's a big enough risk to take a few hours off your night's sleep.
What are your favourite tracks? If I had to take a few discs to a desert island, it would be: Snoop Dogg – Doggystyle; Pearl Jam – Ten; Red Hot Chili Peppers – Blood Sugar Sex Magik; and Nas – Illmatic.