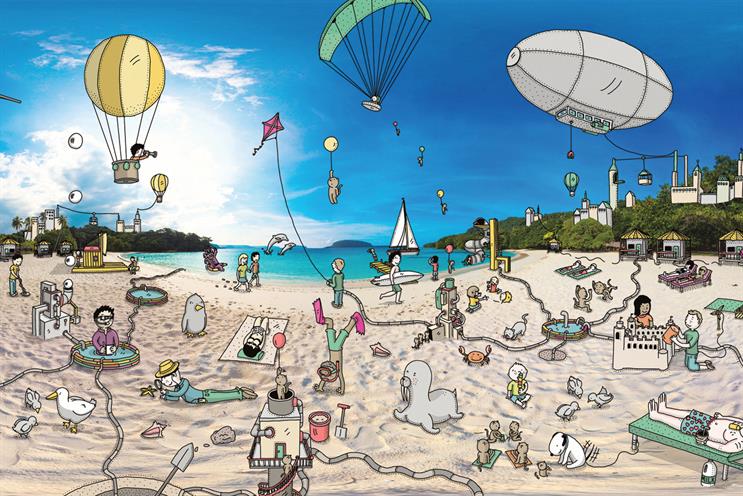 Tell us about the project. I was contacted by AnalogFolk earlier this year with its idea for iSPIES – a kids' game that ignites their imaginations and helps keep them entertained during the school holidays. Kids can play with friends in the game, which is also packed with craft ideas, tips and facts. The agency thought it would fit my style of illustration. I thought it sounded like a fun project. It turns out I was right. It has been great fun dreaming up the scenes and characters for the game.

What was your inspiration for the illustrations? The background imagery that AnalogFolk provided was a great starting point. The goal was to make intricate illustrations that blended in with the overall scene so that it feels like they are a part of the same busy world. What I especially love is the way illustration and technology come together to make the game more engaging. Kids can explore the panoramic universes using the mobile screen as a viewfinder that they can move around, making them feel like they are part of the image. I like detailed children's book illustrations that have the kids looking at the image for a long time, discovering more and more details within it.

How did you get into illustration? I started illustrating in 2009 when I quit my job at an ad agency and started freelancing as a web creative. This gave me time to teach myself to draw – something I have always wanted to do. I have continued illustrating at the same time as working as an art director at the production company Gertrud, which I co-founded in 2010.

What other projects are you proud of? I got to do a children's book last year about a girl and her grandfather walking to the store. On the way, the grandfather explains the world around them and makes up fantastic ways different stuff works. I really enjoyed the process and I love getting e-mails from parents telling me that their kids like the book and that it inspires them to think up their own wacky explanations about how stuff works.