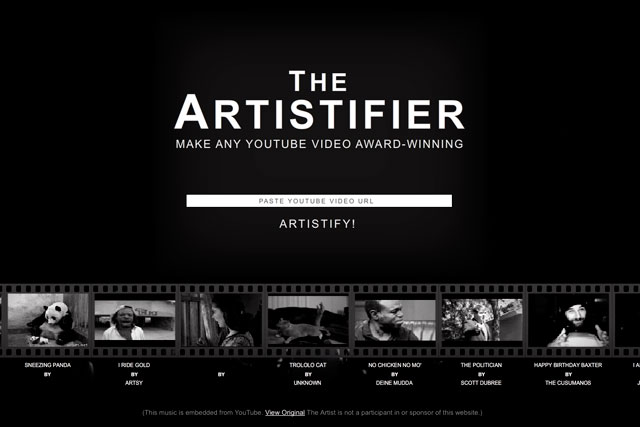 Why: Last month, theartistifier.com launched, allowing users to turn any YouTube videos into silent films in the style of The Artist.
How: They say: "Along with the Iris creative John O'Sullivan, we hit upon the idea of 'Artistifying' YouTube videos: making them black and white, flickery, orchestrally scored and letting people add subtitles. It had to be quick and easy to use, but precise enough to craft something if you wanted to put the effort in."
Inside Plackett And Burkhart
The reason I got into advertising was ...
JP: I started out doing graphic design and swapped to advertising because I was more interested in the ideas. JB: I moved to Chicago after university to work for US Soccer. But they picked the other intern to be the national press officer. Consolation prize: I landed a job at the oldest ad agency in the world, NW Ayer, and realised I really love coming up with ideas. Especially ones that involve infographics and made-up stats.
The biggest influence on my career has been ...
JP: Learning to code. Before that, I had a lot of ideas and no-one would make them. JB: Encouragement from David Abbott when he brought me in to work for him as an intern. Then moving to the "brick in the window" approach of HHCL and its Advertising Brasserie spin-off a few years later.
I'm really inspired by ...
JP: Great ideas that also have a new or unexpected use of technology. Aaron Koblin is a bit of a hero of mine. JB: My hero is Jack Handey, the ex-Saturday Night Live writer and author of Deep Thoughts.
You probably don't know this but ...
JP: I made a site called Slap Nick Griffin, which resulted in threatening phone calls. JB: I have four push-scooters that are too fast for even teenagers. Also, you know Spellbound, that film about spelling bees? I lived that dream as a 12-year-old but fell at the final hurdle, just missing the chance to get seen on ESPN at the National Spelling Bee.