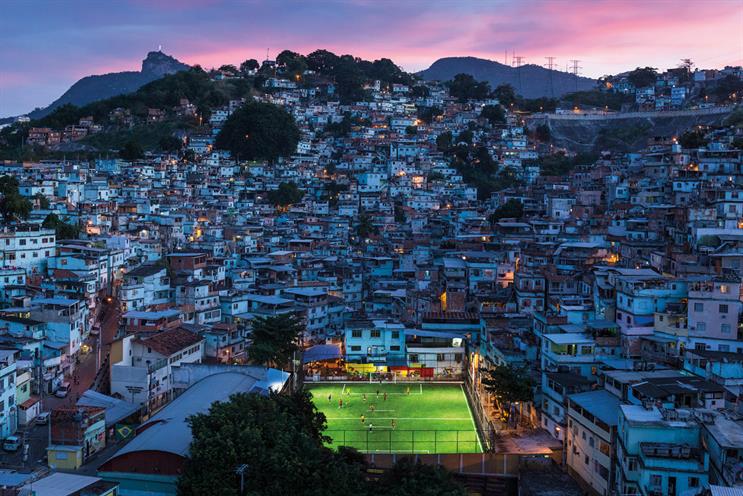 Tell us about the project. We created "#makethefuture", a platform for Shell where people can be excited by energy, science and engineering. To launch it, we needed an idea that showed Shell's commitment to this problem. JWT proposed to build the world's first football pitch powered using kinetic energy tiles and solar panels to give light at night. Interest around the pitch has meant that local business has increased, nearby buildings have been refurbished and we obtained the support of the local government and mayor's office.
Pelé opened the pitch and signed the mural by a local artist. We received worldwide media attention and a short film about the launch has become the most engaged piece of content Shell has ever released on Facebook.

How did you come up with the idea? Last year, we held a workshop involving 30 creative teams in our network. An idea was conceived but it started out as a basketball court stunt in New York. I proposed that we look into favelas, which is where the idea really solidified.

What were the challenges? This was a triple world first: the first kinetic football pitch, the world's largest-ever kinetic installation and the first-ever hybrid solar/kinetic installation. To deliver that in the challenging environment of Brazil was the hardest thing I have done. Even the kinetic tiles were held up in customs. Production involved 40 people across Brazil and London. There were specially selected AstroTurf with rubber beads to assist the energy capture, high-lumen LED lights, five-year warranty packages to ensure the community and local government weren't exposed to financial risk, plus complex legal agreements.
Credit to our client, Malena Cutuli, for supporting us. She's incredibly collaborative, and that spirit was apparent across the agency teams. It wouldn't have been a success without the support of MediaCom, Possible and Edelman.

What other work are you most proud of? Mr Kipling's "edible billboard". It sounded simple but became incredibly technical. We had real fears over the weather – no-one wants to eat rain-soaked cake. But it turned out brilliantly.

What's your next project? We have another kinetic sports pitch going into another country and a music project for Shell. There's also cool work in development for Canon.