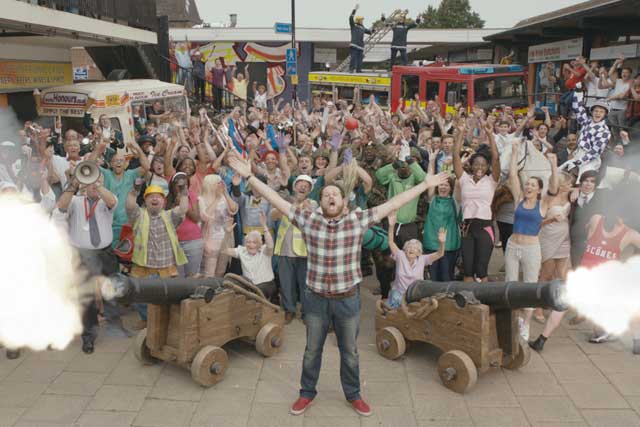 HOW: He says: "There have been so many amazing single-take spots. Early on, we realised we'd never be able to top the best ones; so we thought it might be funny to make almost a spoof of single-take videos. And so we conceived a bunch of ideas where the cuts were hidden with really cheap tricks - like having our main guy walk into a truck and exit a phone booth and a stunt double wearing a helmet and goggles. It's funny when people talk about it being a seamless take because we deliberately tried to make it so obviously not a seamless take. Ultimately, the tone and the energy of the spot feel consistent throughout, and I believe that's what drives it. In terms of the cutdowns, I came up with the idea to begin and end our ad the same way. This means we needed a 'wormhole' that would bring us from one section to the next. I spent what seems like weeks working in an Excel document to figure out the perfect path structure for all three spots. It worked out in the end, but we ended up having to do multiple versions of sections where our hero would have to enter one thing or exit something else."
Inside Schofield
How did you get into directing? I got a video camera in eighth grade and never stopped. Also, watching MTV in the mid-90s was pretty inspirational: Spike Jonze, Michel Gondry, Jonathan Glazer and so on.
What are you most proud of? I've got a soft spot for the music videos I've done that have taken on a life of their own online: Duck Sauce's Big Bad Wolf and Charlotte Gainsbourg and Beck's Heaven Can Wait.
What inspires you? I used to say "random shit on the internet", but lately that's got me nowhere. So how about clouds?
Who is your favourite director? The Coen brothers.
Tell us something unusual about you. I have never been in a submarine.