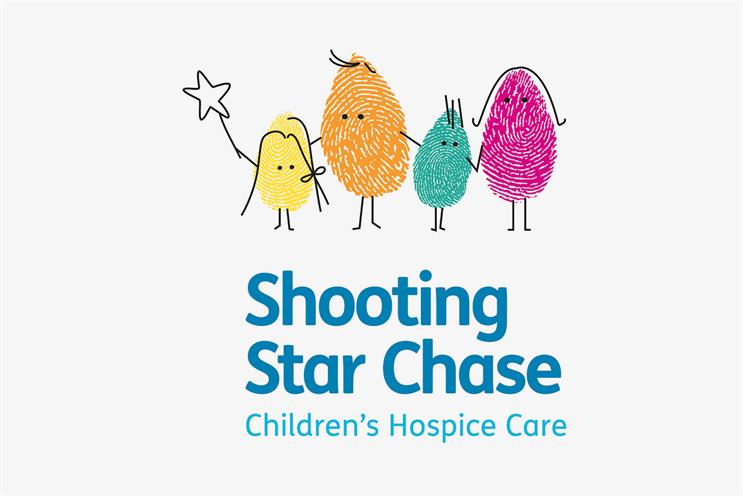 How did Shooting Star help support you personally? Tommy was born with a hereditary genetic illness that meant he only lived for a few weeks. Upon leaving hospital, it was recommended that my wife Alexia, Tommy and I spend the final few weeks at Shooting Star House, where we could all stay and be looked after 24/7. Tommy was only expected to live for a few days but surprised everyone by living for a further three weeks. We believe that extra time we had with Tommy was due to the love, care and support we received at the hospice.

Tell us about the project. After returning to work, it was proposed that Fitch should offer its services to the charity if there was ever a need. Serendipitously, Shooting Star was about to go through a merger with another children's hospice, Chase. Fitch agreed to create a new identity and logo.

How did you come up with the concept of fingerprint art? We wanted an identity that was playful and flexible but also reflected the bespoke care each family receives. Fingerprints are unique to the individual and so is the care provided to each family based on their needs. One of the designers had a moment of inspiration and drew the first "Friendly" character from his own fingerprint.

Having multiple logos breaks the traditional rules of branding. Why did you decide to do this? It allows us the flexibility to tell a complicated story. It was possible because there is a seamless thought that runs through it, making it immediately recognisable. Most importantly, every child who is cared for at Shooting Star Chase has the opportunity to add to the story with a "Friendly" of their own.

How did you get celebrities involved? Shooting Star Chase has a number of high-profile patrons who willingly contribute their "art" and arrange day trips – for example, visits to The X Factor.

Did you aim to change the perception that children's hospices are depressing places? The reason behind a hospice is sad. However, when you visit these hospices and talk to the parents, carers and children themselves, the stories reveal that these places are full of joy, love and laughter. We wanted to remove the stigma.

What's next for the charity? It costs £9.5 million a year to run the charity at the current level of support and, as only 10 per cent comes from government funding, we need to continue to push our fundraising activities. We also want to remain at the forefront of driving the reappraisal of what children's hospices are.