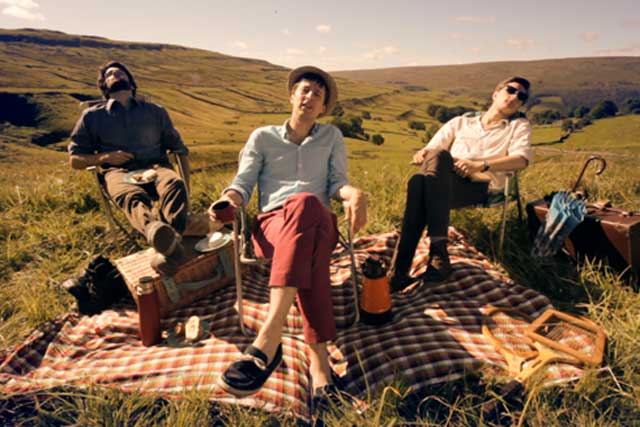 How - They say: "We decided on the title of our new album, Staycations, over a year ago, as its first songs began to take shape. We thought it would be interesting to team up with an unusual partner to help us, and the National Trust came to mind, as they look after hundreds of 'staycation destinations'. So we approached them about the idea of recording our album in their properties, as well as capturing the music videos and artwork on location. Our request was their general support and some modest funding, in return for showing the places in a new light. They said yes."
Inside Kotki Dwa
How did you get into music? Our singer, Alex, got into musicals at a young age. Tristan picked up the bass to jam with Alex when he started writing songs and Tom got into drums via jazz.
What are the best bits of your career? We had our track Le Beau Charcutier installed on headphones in the Tate Modern next to the Francis Picabia painting that inspired it. Our track was selected by a panel including Huw Stephens and Graham Coxon. We also enjoyed doing a session for BBC Radio 1 at Maida Vale. Making this new album is some of the most fun we've had, darting around the country.
What is your biggest musical influence? This may sound jokey. It's not. Super Mario Brothers has always been a big influence on our writing, for the way the music conjures very different moods and atmospheres, almost orchestrally but using simple synthetic instruments.
Which is your favourite National Trust property? Hmmm. We had a great day at Prior Park Landscape Gardens in Bath, recording synths outdoors. We were also wowed by the Lake District properties we visited to make the music video for the title track. Yorkshire Dales was amazing too.
Tell us something about you that we don't know ...
We had to "audition" in order to borrow one of the National Trust's harpsichords!