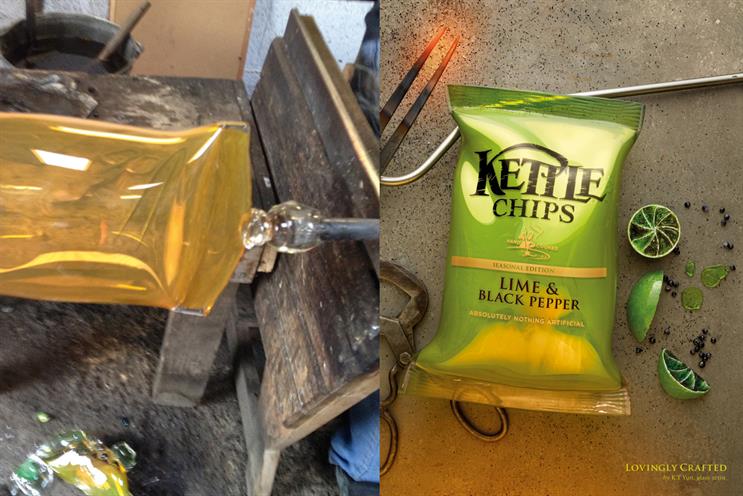 Tell us about this project. I was asked to take part in the Kettle Chips "craft party" ad, released in December 2013. I took my portable furnace up to a warehouse in London and made glasses for the table, as seen in the ad. Then I was asked to come up with a design for a glass crisp packet. I enlisted the help of a talented glass-maker, James Devereux, to help me lift and form this fairly big piece of glass.

How did you get into glass-blowing? I was at art school in Cumbria when a tutor invited the class to visit his glass-blowing studio. The minute I saw molten glass, I knew it was what I wanted to do. It takes a few minutes to decide you want to learn and a few decades to learn enough to even warrant the name "master"… I guess I am a "mistress" of glass.

How long does it take to learn and where did you study? A minimum of ten years to become skilled enough to make a range of work and learn enough techniques. I studied glass at the University for the Creative Arts Farnham, but mostly learnt from becoming an "assistant" to masters such as Philip Baldwin and Monica Guggisberg, Lino Tagliapietra and Dale Chihuly, and many more in Europe and America. I also learnt by just having to produce many objects the same in factories and studios.

What other unusual projects have you worked on? I love to assemble insects and "glue" them together, using a torch or hot glass as the glue. Unusual activities include blowing glass in the dark at Glastonbury. I am inspired by the translation of glass as a molten material to a sculptural material and its ability to represent nature – when it is liquid, it is almost alive.

What inspires you? I'm inspired by the forces and movement of nature.

What are you working on next? I am working on a project involving layers and armoury in glass, and also a larger-than-life-sized mantis. My ongoing projects are running The Glass Hub and making small-scale furnaces with my sister company, Minimelt Glass. The most exciting thing I have done recently is run a masterclass for The Glass Hub, where we teach everyone from beginners to advanced. We had a true "master" visit, and probably one of the most inspiring weekends of my life, even though we were running it! I love to show others the excitement of glass.