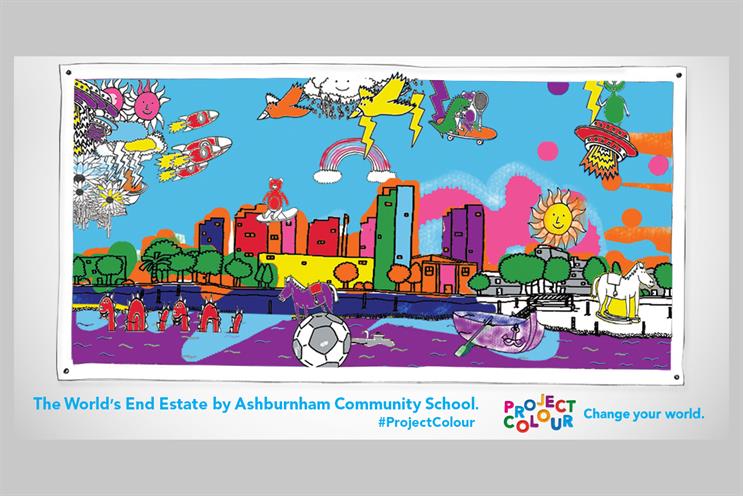 Tell us about Project Colour. Children were able to paint on to a 15-square-metre digital billboard overlooking their playground via our Project Colour app, installed on iPads in the playground. A collage of their paintings was exhibited across London. Photographs of their work were then used to create a display in their assembly hall, with each child also getting a poster of their own artwork to take home.

What is it trying to achieve and why? The aim is to encourage the creativity of children at Ashburnham. Many of them struggle to express themselves creatively. This is partly down to the fact that the curriculum can be uninspiring. It's also partly because, despite going to school on King's Road, they are among the 20 per cent most-deprived children in the UK and aren't often privileged enough to experience the creative culture in London. We wanted to do this because creativity can have a hugely positive effect academically as well as emotionally, and it has been shown to increase aspirations.

What was the hardest part of making Project Colour happen? Working out exactly how the technology was going to work, combined with the huge amount of planning that had to go into the event. Fortunately, we found a partner, Everybody Engage, which has a huge amount of experience in this field.

Were you and the school pleased with the results? It was brilliant to see how much fun the children had and how excited they were when they saw their work up on the big screen. Talking to the headmistress, Bella Street, it was encouraging to hear that the project has been really accessible for all the children and she felt that it had helped them "understand that they can be creative even though they don't have that self-belief".

Will you be doing anything else? We'll be going back to the school later this year to do an assembly, where we'll be looking back at all of their artwork and the project so far. We are also redesigning the app so they can carry on using it in their art classes. We hope all of this will encourage them to continue using the iPads and the Project Colour app, and we're looking at ways to extend the project.
You can see a short film of the project so far at tinyurl.com/m4zrj77.