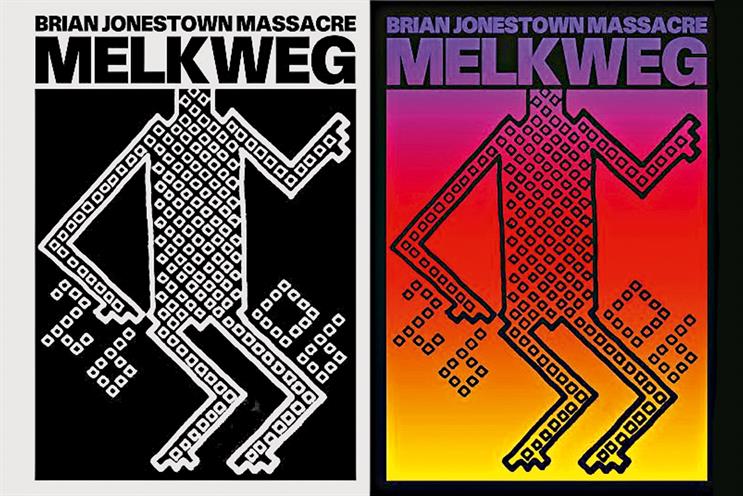 Tell us about this project. I am currently working with a few mates on tour art for The Brian Jonestown Massacre. At present, we have done a poster for their Amsterdam show, but we are working on a few more. They will be available to buy as prints, but we will also be giving people the option to pick their own two-colour palette online, which they can then print. We haven't quite worked this out yet, though.

How did it come about? I contacted Anton Newcombe from the band and showed him some of my work. He said I could do what I want.
What were the challenges? I think a completely open brief can give you too much freedom sometimes. Talking and working out what we wanted to do probably took far longer than the actual executions. Also, we worked on a roof at night, so getting power leads up and down proved slightly tricky.

How did you get into advertising? On leaving school, I decided it would be easier to teach myself art than marketing, so I went to business school. After that, I completed an MSc in creative advertising at Edinburgh Napier University and was accepted into the D&AD Graduate Academy in my final year. Since then, I've been working in Scotland or London.
What inspires you? Lots of things, but mainly the desire to be constantly making something. I am also in love with the idea that I can contribute to popular culture with my work. I think there is a certain amount of responsibility that goes along with that, and I like it.

What's your favourite Brian Jonestown Massacre track? Straight Up And Down from Take It From The Man! (1996). Such a great tune. It's on the album twice, actually. It's also used as the theme song to Boardwalk Empire, I'm told.

What are you working on next? I'm embarking on an A to Z of Britain according to social media. It's not a serious book.