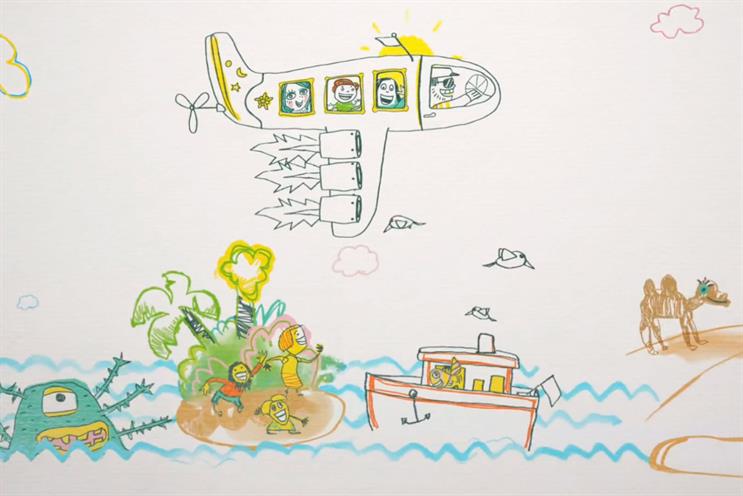 Tell us about the project. The brief was to develop a film seen through the eyes of a child. The live-action scenes were created alongside Zak Emerson at Blink and we did the animated sections. The project was a great collaboration with the guys at Leo Burnett, who were very open to ideas. For us, the challenge was to visualise the great joy of discovering uncharted worlds and the excitement of imagining unseen places from a child's point of view.
How long did it take to create? About five weeks. We spent the first two weeks finding our inner ten-year-old. The last week was all about tweaking and refining details. We started with breaking down the script into 2D illustrations, before interpreting them into our 3D applications.

How did you know what a child's idea of travelling would look like? We still have the mental age of a child, so we didn't have to regress much. The main task was to find a suitable style that remained appealing to look at while projecting the imagination of a child. The first drafts had more mature scenarios, but we soon pared it down because children tend to focus on drawing selective objects. Simplicity is always the key.

How did you get into design? A decade-and-a-half ago, we started to trade VHS tapes of visuals for nightclubs in Stockholm. In return, we got guest-list entry and free booze. That eventually led from temporarily having fun to being able to monetise our graphics. We founded our company in 2007.

Who is your favourite designer/artist? You experience great stuff every time you open a new tab in your browser. But to name some greats, it would be Kyle Bean, Nug and Nando Costa. Henri de Toulouse-Lautrec was one hell of an artist as well. In general, every artist who maintains an element of mystery is worth attention.

What inspires you? People who take their pleasure seriously are a great source of inspiration: folks who work hard and put effort into every aspect of their creations. It's always the quest and ambition to evolve that keep us going.

What is your next project? We're not allowed to speak about it yet, but it's a promo for one of Sweden's finest music exports.