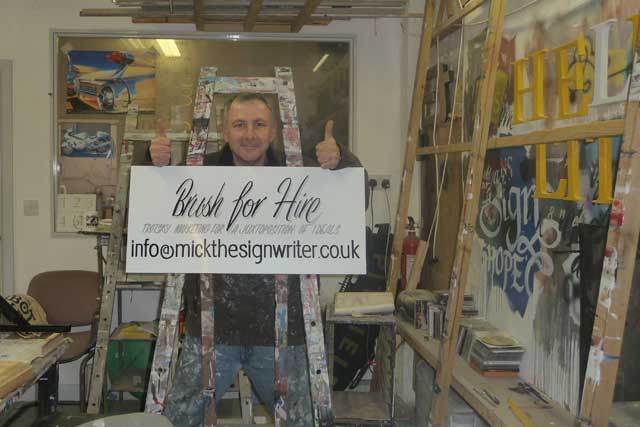 Inside Pollard
- How did you get into signwriting?
I was in an infantry battalion and was so dangerous with a gun they took it off me and sent me to train with the Royal Engineers as a signwriter. Joke. In them days, each battalion had a domestic pioneer section that undertook repairs. I could earn a penny doing private stuff for the blokes, and when we went on exercises, we got to play with explosives and booby traps.
- What sort of projects do you do?
I have the ability to take on just about any type of work. I have lettered coffins, ships, aircraft, shops, walls, honour boards, vans, cranes, floors ... be it a coat of arms or a logo, plain or fancy lettering. A signwriter must be able to do lettering from a half-inch to 25 feet, marbling, graining, airbrushing, gilding, glass decoration, murals, pinstriping, carpentry, design work, coach painting, french polishing, heraldry ... in short, signwriters are a real but disappearing asset to their local community because we add beauty and style to our urban landscape.
- What are you most proud of?
My customers respect my knowledge and ability, and trust me to produce a job that will be effective advertising for their business, because a hand-painted sign has something that computer-generated signs lack: eye appeal. It doesn't matter how big or what materials it's made from, or how quickly it was made - it's the look that matters. A computer-made sign is generic and does not have a soul, so is generally not so effective as a piece of advertising.
- What inspires you?
Within the signwriting world, there is a thing called a letterhead meeting, where we learn new techniques. Some of the talent on show is really awesome, so we each up our game. No secrets are withheld, so if there is a method I am unsure of, I can phone other signwriters and get the information I need. Also, if a customer needs a job doing in Glasgow, say, I can pass that job to the nearest man.