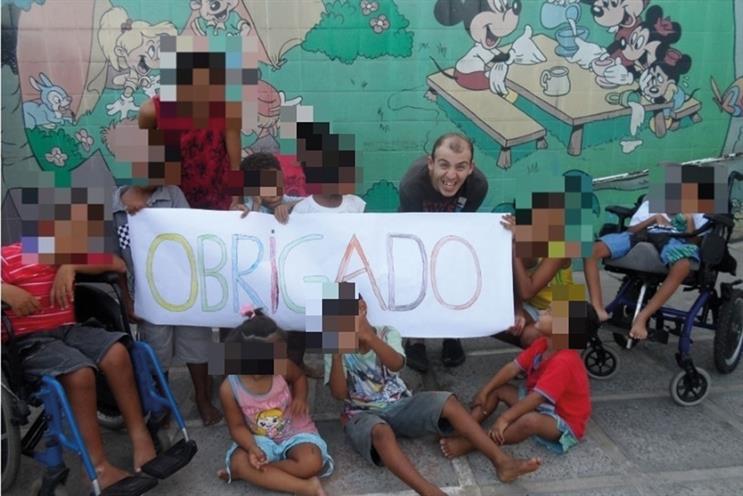 Tell us about the project. The project is initiated by The International Exchange. TIE's aim is to match communication professionals with social projects around the globe. My project was based in Recife for one month.

What did you do in your month there? LAR looks after disabled children and their siblings who have suffered from domestic violence or abuse. The aim is to see the children back with their families through education. I spent half my time there, learning about LAR from the staff and having the odd kick-about with the kids. On the communications side of the project, I worked with an "experimental" agency – it is based at a local university, staffed by students who want to gain experience on live briefs with the guidance of two professors. It was great to work with such enthusiastic people.

Why did you want to take part? The project is designed to take ad folk out of their comfort zone, developing leadership skills as well as doing some good on the ground. It was why I applied – I wanted to do something different and really test myself. I believe there should be more crossover between the private and public world.
How do Brazilian attitudes to disability differ from those in the UK? LAR suffers from underfunding, so the primary objective was to recruit more donors. But the dynamic of giving in Brazil is different to that in the UK and there was a social challenge around disability. People weren't talking about it, which often represents the first step in understanding the challenges disabled people may face. So we wanted to get people confident in talking about disability.

What was it like living in Brazil? I've been asked that a lot. Indeed, I've been trying to work that out while nursing a broken hand – beaches are more dangerous than you think. A dip in Rio resulted in me getting knocked over by a wave and falling on my hand (yes, the sand was compact!).

What happens next? What really interested me – as it mirrored some of the work for our client Scope – is that there are differences in attitudes in the UK and Brazil but also similarities in the way we need to open the conversation. We developed a two-part campaign with the aim of raising funds but also changing attitudes. I will be part of the launch when I attend a gala dinner in aid of LAR soon.