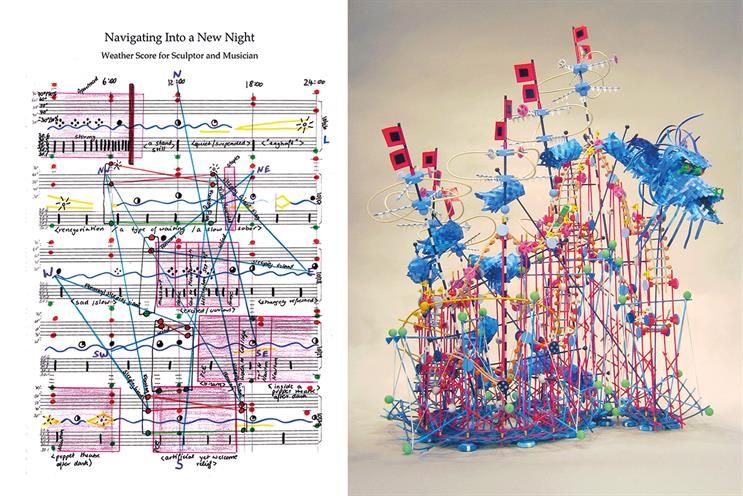 Tell us about your art. I translate scientific data related to ecology, meteorology and oceanography into woven sculptures, installations and musical scores.
My main method of translation is basket-weaving, as it provides me with a simple, effective grid through which to interpret data into 3D. Central to this work is my desire to explore the role visual and musical aesthetics play in the translation and understanding of complex scientific systems such as weather.
How did you get into this kind of work? In 2006, I began focusing my sculptural data translation on weather because I wanted to find a more tactile, physical way of understanding climate change. To me, the key is to make weather tactile, to have it emerge from the flatness of the computer screen and the abstraction of the graph.
I begin a translation process into 3D, using basket-weaving as a simple spatial grid through which to translate the data. The forms I create are not only tactile data visualisations but are also sculptures and installations through which viewers can approach the information from all sides.
How do you use data to create music? I turned to musical notations when I became aware of nuances embedded in numerical behaviours that meteorological instruments don't pick up but the human mind does. The scores are first written in 2D and are built out of weather data. I then use them to build sculptures that function as data visualisations and musical scores. I work with a variety of musicians and composers in performing these scores.

How can the ad industry improve its relationship with data? At Havas Helia's Field.work festival, which debated how to build emotional connections with people through data, I mentioned that there is a growing awareness that we need to re-evaluate and reshift our understanding of data by broadening our approach to it.
I see a growing need to reach out to other disciplines to understand how scientists, marketers, policymakers, teachers, poets, musicians, computer coders, data scientists, artists etc are working with data.
We don't all need to reinvent the wheel on this – maybe just listen more to others outside our own field of reference to see how they fail, play with and explore data.