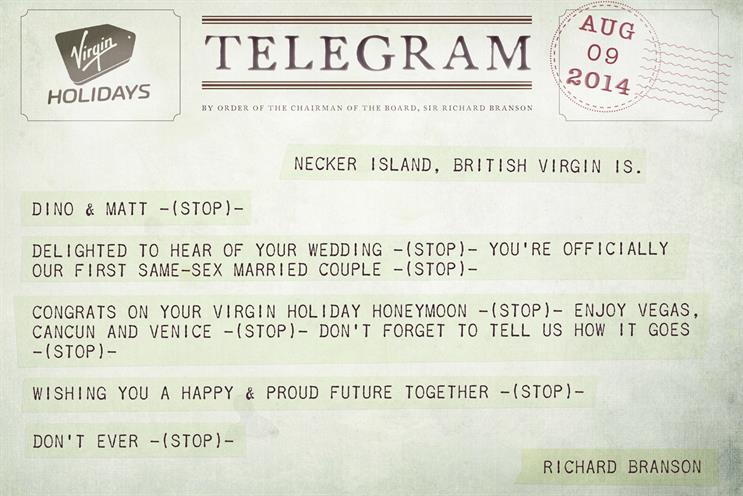 How did you come up with the idea? Virgin Holidays has a long-standing relationship with the gay community and Attitude magazine, sponsoring its awards since 2012. So, after a tactical ad on the day the bill was passed, we thought: who better than Virgin Holidays to offer the chance to win a wonderful honeymoon? We partnered with Attitude to help make it happen.

How did you get such quick approval? Virgin Holidays was as keen to make this happen as we were and has worked proactively with us on bringing it all to life.

Were you worried about any backlash? Absolutely not. The Virgin Holidays brand has never been a shrinking violet and believes strongly in travel for all, so it made perfect sense that it should be the first travel brand to openly support the legalisation of same-sex couples in the UK. And our previous same-sex marriage bill work had been embraced by our customers.

What coverage did you get? Working with Attitude, the competition was launched in conjunction with a special "love and marriage" edition released to celebrate Attitude's 20th anniversary. The story was also covered in the national press, including The Guardian.

What's next? The honeymoon may be over for Dino and Matt, but the campaign isn't. The chaps are producing content for us from their travels, which Attitude will also use in a future edition of the magazine.