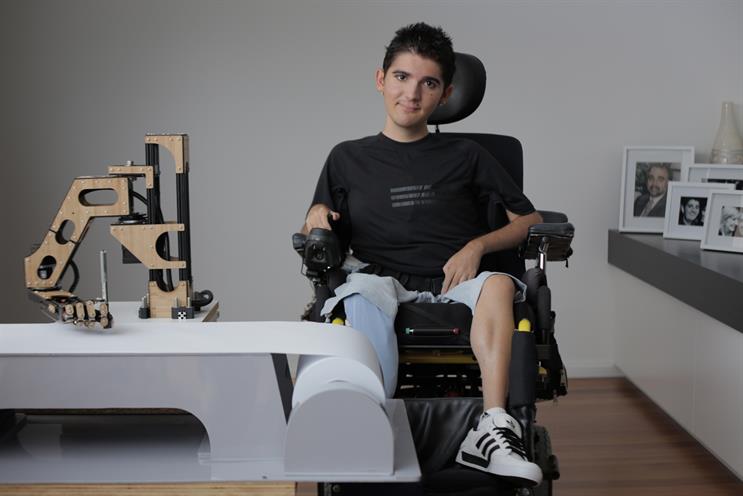 Tell us about 'the most powerful arm'. It was a collaborative campaign between Finch, Reactive, Red Agency and Havas. It's a petition-signing robotic arm lobbying the government to help Save our Sons match the AUD1.75 million raised for clinical trials.

Save our Sons is the charity for Duchene muscular dystrophy, hence the use of a robotic limb and the call to action: sign for those who can't. The clinical trials could save these boys' lives. At the moment, most of them rarely live to see their 21st birthday.

How did it come about? Finch developed the technology and approached Havas. We pinpointed the client, focusing on a relevant charity. We then enlisted Red Agency and Reactive to build the PR story. Once everyone was on board, we began crafting the story around this heartbreaking condition, as well as the arm itself.

This is where Jacob Lancaster, a 19-year-old DMD sufferer from Sydney, comes in. We not only used his face to front the campaign, we also gave the robot his handwriting – an emotional task seeing as he was no longer able to write.

With so many agencies involved, was there ever a point when you thought it might not come off?
Absolutely not. The timings were tight but, with talented people passionate about creating something amazing, we managed. Each agency concentrated on their aspect of the campaign.

What does the D&AD black Pencil mean to you? It's always an honour to be recognised. It's also a sign we must be doing something right. A black Pencil is an outstanding achievement at this early stage in our careers.

Where do you find your inspiration? Everywhere and anywhere. While we take our jobs very seriously, we don't let it get in the way of living interesting lives. Life experience goes a long way in this game. When we work on something, we try to immerse ourselves in the brief at the same time as removing ourselves from it.

What do you think is the secret to your success as a team? Our differences. We have opposite personalities, which means we approach every problem with different solutions.

What are you working on next? Currently, we're working on some pretty exciting stuff for eBay and Virgin Mobile. But, ultimately, we're working on our next black Pencil!