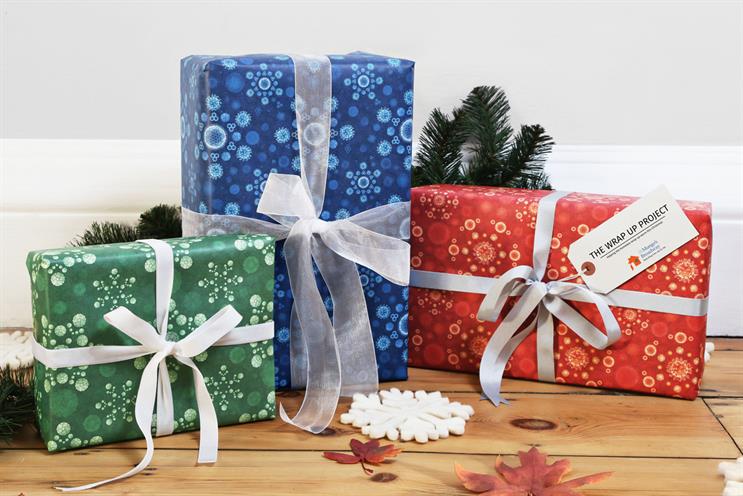 Tell us about the project. The Wrap Up Project helps raise awareness for homeless people through the sale of "infectious" wrapping paper. Designed to look like snowflakes, it recreates viruses that pose health risks to people sleeping rough this winter, including the common cold, influenza and pneumonia.
In the past four years, there has been a 77 per cent increase in rough sleeping in London alone. When the temperature drops, homeless people become particularly vulnerable. All the proceeds go to St Mungo's Broadway, the charity that helps people who are homeless or are at risk of homelessness to rebuild their lives.

How did you come up with the idea? We wanted to create a force for good with the agency Christmas card. After all, giving is what Christmas is all about. The idea evolved from there into Christmas wrapping paper that allows people to give while they gift. It was a team effort that couldn't have been realised without Doug Fridlund, Mikael Alcock, our executive creative director Ross Neil and the designer Tomek Drozdowski (and many more).
How did you create it? We researched each virus' pathogens, then set about making them look festive. We wanted to subvert Christmas "language" with an actual message. The challenge was to make it look familiar but have it reveal its message on closer inspection. Tomek designed each snowflake out of several virus images to create beautiful patterns.

How did you produce/package it? We printed the paper externally and have been hand-rolling and packaging, assisted by a host of volunteers from WCRS and St Mungo's Broadway.

How are you selling the paper? Our client Notonthehighstreet.com agreed to stock our paper and will be supporting the project through promotion on its blog and Twitter.

How did you get involved with this charity? I've been a huge fan of St Mungo's Broadway for a number of years. It provides beds and support to more than 2,500 people a night and helps about 25,000 people a year through more than 250 projects. We recently got involved with its Recovery College, which is a hugely innovative project offering free courses aimed at people who have experienced homelessness.