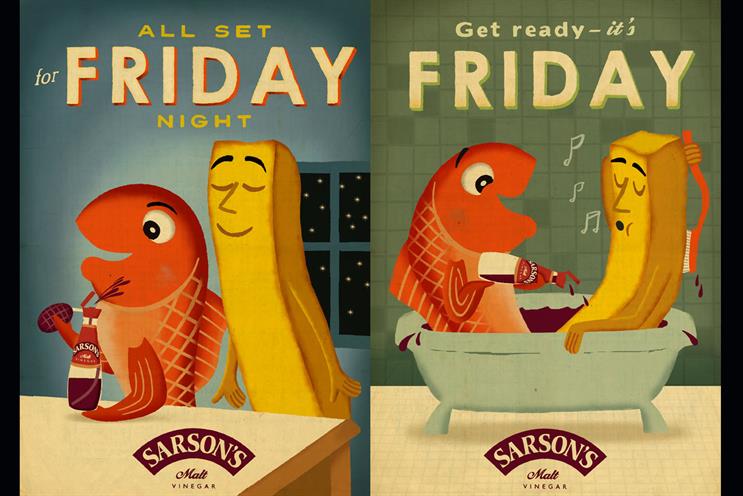 Tell us about the project. I found out about the Sarson's campaign via my agent, Handsome Frank, in May. Mcgarrybowen was looking for illustrators whose work had a vintage feel and my illustration style seemed to fit. The whole process took the summer to complete. It was good to work with the agency because they are perfectionists and pushed me hard to create the best posters.

How did you come up with the illustrations? It was clear how the agency wanted them to look, so I concentrated on drawing the two characters and making them appealing. I had a look at how the fish has been depicted in various fish-and-chip shop signs and also thought about what colours to use to make it look like something you'd want on your plate. I noticed that fish can look quite scary in illustrations and wanted mine to be friendlier and, dare I say, more attractive to the eye.

What inspires you? Mid-century illustrators and, particularly, poster artists including Bernard Villemot, Abram Games, Hervé Morvan and Raymond Savignac. I'm drawn to Games because of his ideas and to Villemot because of his bold use of colour. I remember first discovering Villemot when an exhibition of his posters was held at the Bibliothèque Forney in Paris. It was a wet, grey autumn day and I won't forget the impact the colour had on me. Going for a walk around London can also bring inspiration.

Which project are you most proud of? My Alphabet book that propelled me from obscurity. It was conceived purely as a personal project and has helped more than anything to raise my profile. Because there have been too many illustrated alphabets, I wanted mine to be different and to challenge myself. So I decided to use each letter to illustrate the word. It started as something for children, but I soon forgot about that and just enjoyed making each letter. The prints have been sold in both Tate galleries in London and there is also a book (and products) available.