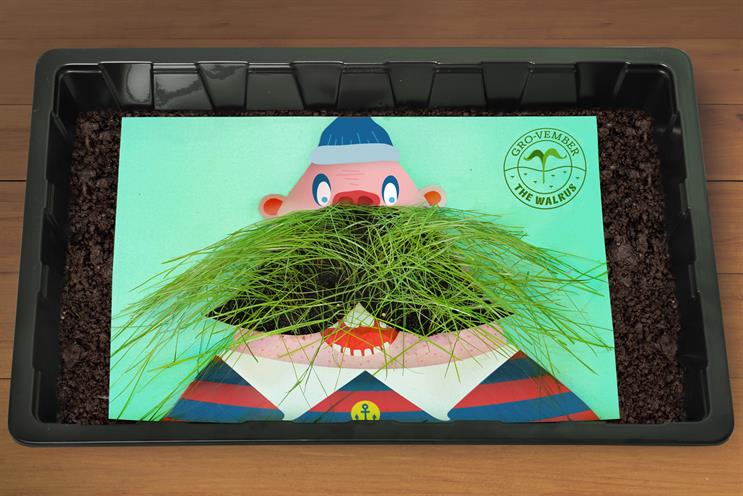 Tell us about the project. We're helping school kids grow their very first moustache… out of grass. The project is called "Grovember" and is something we're doing with our Miracle-Gro client in support of the charity. Schools have often got involved in the event but it's always the teachers who seemed to have more of a laugh than the follically challenged children. With very little budget but a lot of enthusiasm, we knocked up a website where teachers could download funny face templates, vouchers for free seed mix and educational material.

How did you come up with the idea? We'd already been working with Miracle-Gro on ways to engage a younger audience. But when we heard Movember was trying to do the same, it got us thinking. It was obvious that gardening needs to be fun, or kids won't grow. And Movember is not quite the same for those who can't grow. This "won't grow/can't grow" conundrum sparked the idea for a collaboration.

How did you get schools involved? Miracle-Gro already had a relationship with a number of schools thanks to the programme it runs every year at the RHS Chelsea Flower Show. Movember also helped out through its connections with teachers and schools that had got involved in previous years.

How successful has the project been? We're getting brilliant feedback from the schools plus some funny pictures from inside the classrooms. We've had great endorsements on Twitter including one from Morgan Spurlock – a man who appreciates the art of growing these furry things.

Which is your favourite tache? Holmes: I have a strong affinity to the classic military tache. The one all the special-forces guys had on the telly in the 80s. Graham: It would have to be the ginger one I comb every morning in the mirror.

What inspires you? Making strange connections. Laughing at things you probably shouldn't laugh at. ZZ Top.

What is you next project? We're chatting to some amazing comedy directors for a new TV spot that's coming up. And then, for another brand, we're looking to launch a range of underwear. Nice.