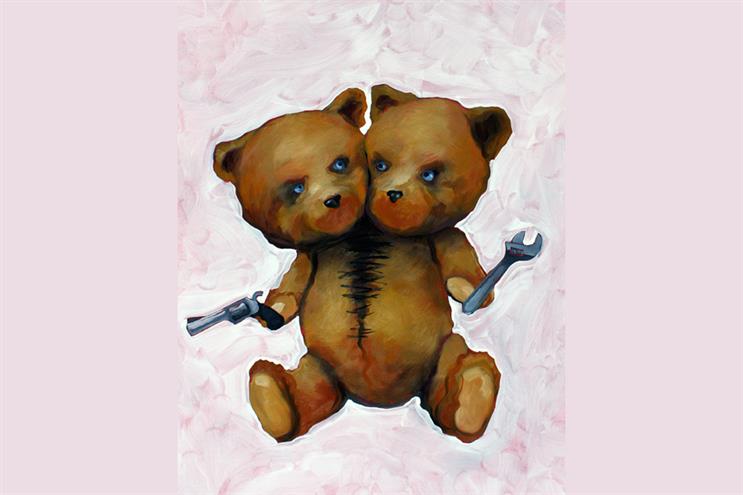 Tell us about this project. Kaiser Chiefs were launching The Future Is Medieval in a way that allowed fans to personalise their own version of the album. That included the artwork. There were 20 tracks and each needed its own artwork. This culminated in 20 oil paintings inspired by the tracks that the public could then tailor. It's strange when you let the public get their hands on your babies – it turns out they're actually quite good art directors (I put it down to good material to work with!).

What are you working on now? Based on the success of these covers and the show at Proud, I'm now working on the next album, Education, Education, Education & War, which launches in the spring. Whenever I answer any brief, I like to know exactly what is needed, and [the lead singer] Ricky Wilson is a straightforward briefer – no hidden objectives or agendas. After a short talk, I got what was needed and, after some hard Christmas toil, I produced 11 images for the album. It was fortuitous timing that this fell over the Christmas break; being a creative director at WCRS leaves me very little time to pick up pens and scrawl my rawest ideas down in creative abandon.

Which artists most inspire you? It's a valid question and my answer may sound a little arch, but the work I come back to again and again is always early Disney: Bambi, Pinocchio, Dumbo, The Jungle Book. Every single frame is magic – crafted and rich. It's incredible when you see an image that is so massively overloaded yet every single moment is utterly necessary.

What do you specialise in? I like making pictures and, depending on the brief, I'll do whatever's needed. It's strange but, the higher you rise up the ladder, the further you get away from the practical tools that got you there in the first place. In this case, Photoshop! The last album was a series of oil paintings; this next album is a chronology of 11 drawings spanning 100 years. Each represents a different decade, so giving each one a decade-specific look was like forensic science (in bloody Photoshop).

Where has your work been exhibited? The recent show at Proud was my first in several years. It gets harder and harder to maintain a career as a visual artist while being a creative director of a London agency, so exhibiting in HMV and on iTunes, Amazon and fly posters seems to be quite a good compromise.

What is your favourite Kaiser Chiefs single? Coming Home on the new album is formidable: sad, uplifting and full of sorrow and hope all at once. A bit like David Bowie's Heroes but angrier. An anthem for 2014. Great stuff.