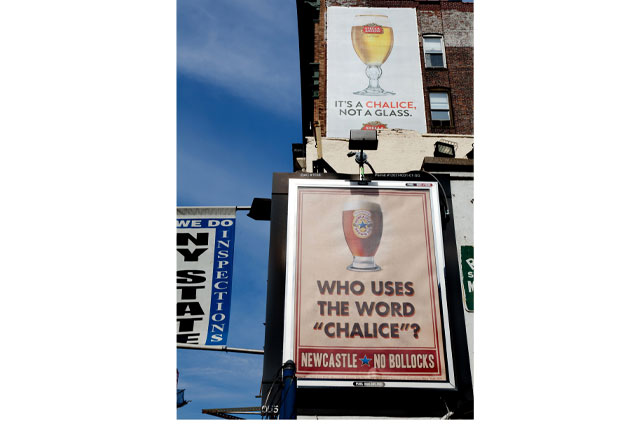 How They say: "Quite often, ads don't tell the whole truth, or twist the truth to their benefit. But when you're a beer from Newcastle, England, where the people are always direct and honest, you do things a little different. You tell it like it is. Before the campaign launched, we spotted a Stella Artois billboard in New York's Times Square calling their glass a 'chalice'. We knew we had to say something. No self-respecting Geordie would let this slide."
INSIDE BELL AND TREICHEL
The reason I got into advertising was ...
SB: It was the last major at university I hadn't tried yet. And I heard you could wear jeans. DT: When I was six, my cousin told me that if I went into advertising, I could draw pictures for a living and I'd get to drive a nice car. Neither turned out to be true.
My best career bits so far are ...
SB: Hearing my voice on the radio while driving in Los Angeles with my future wife and mother-in-law. Instant credibility. DT: When Ricky Gervais visited our office. David (Droga) showed him our Newcastle work and he laughed out loud.
The biggest influence on my career has been ...
SB: Bourbon and the internet. DT: The original Skittles work from Chiat, New York. They made it impossible for anybody else to do a weird ad for the next ten years. Believe me, I've tried.
I'm really inspired by ...
SB: Inspirational posters with inspirational quotes. And MoMA. DT: Curb Your Enthusiasm.
My favourite advertising is ...
SB: Any of the "High Life Man" spots from Wieden & Kennedy.
DT: Nike "morning after" and Ikea "lamp". They were, coincidentally, both directed by Spike Jonze.
You probably don't know this but ...
SB: I'm an actual Duke of Hazard as appointed by the mayor of Hazard, Kentucky. DT: I live a 30-second walk away from the agency. I never need an umbrella.