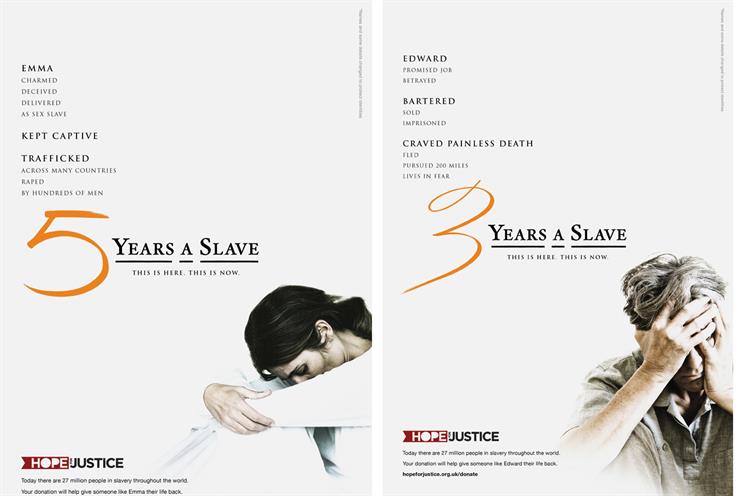 How did you come up with the idea? I wanted to get maximum exposure. Most people believe slavery was abolished a long time ago, but it's an under-publicised crime that's happening across the world right now and it's bigger than ever. With all the hype around 12 Years A Slave, I thought: that's it, let's think big and create a powerful social campaign for Oscars night.

What were the challenges of producing an ad so quickly? The challenge was to find the victims' stories. Many were too harrowing to tell. Some brave people stepped forward, the proviso being we used actors to protect their identities. The look and feel had to be faithful so I asked our designer, Suki Rai, to create them. We then planned the social media strategy using the hashtag #stopslavery.

How did you distribute the idea? We waited for the big night. Dare's Toby Horry and Andrew Bevan volunteered to stay up. The moment the winner was announced, we launched with Tweets such as: "This isn't 1841. This is now." The next day, the Metro kindly gave us free media space.

Have you seen 12 Years A Slave? I watched the film and I admire Steve McQueen immensely, especially Hunger. He has won the Turner Prize and an Oscar, which is an incredible feat.

Is the timing of marketing becoming more important than quality or content? You have to be good enough to deliver the best ideas and you don't have the luxury of time. That's the essence of modern brand publishing.

Should all brands be looking more at tactical opportunities? Whether it's connecting a brand to an event, publicising good news or apologising for bad, you have to act tactically. It's not just about random tactics; it's how those tactics work holistically as part of a brand publishing strategy.

What inspires you? I love ideas that have a purpose and make you feel something. I love finding strategies that take you somewhere new. I love storytelling, film-making and creating ideas with new technology.

What is your next project? There are lots of exciting projects going on at Dare and, on a personal level, I'm working with the Dame Kelly Holmes Legacy Trust. She's a very inspiring person and has a strong desire to support underprivileged kids – but that's another story.