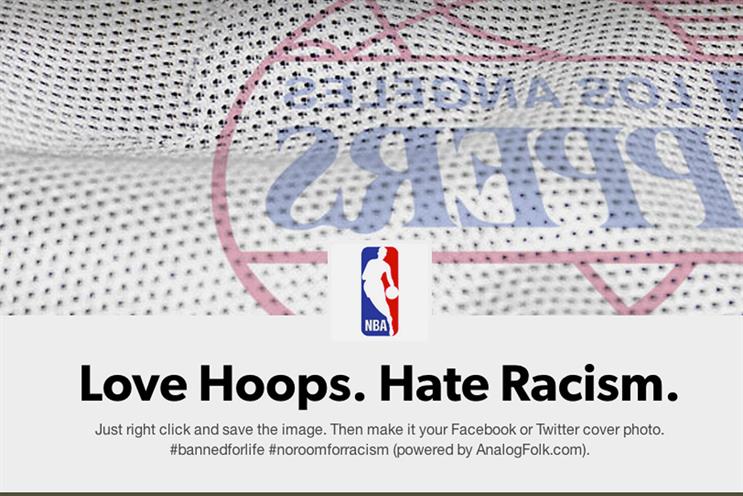 Tell us about the 'Love hoops. Hate racism' project. Following the alleged racist comments from the LA Clippers owner Donald Sterling, the team took to the court with their jerseys reversed, obscuring the Clippers logo and making a stand against racism in sports. LeBron James and his team, Miami Heat, then reversed their own tops the next day as an act of solidarity with the Clippers players and a statement against racism.
We wanted to amplify this trend, allowing NBA fans around the world to show their love for their team and their hatred for racism.
The answer was simple. Ben Howarth (the senior designer) and I thought up the idea on a lunch break and had it live that afternoon.
We flipped the logos of all 30 NBA teams and created reverse-jersey cover photos for Facebook and Twitter.

How difficult was it to organise? Not difficult at all. Some quick Photoshopping and a Tumblr blog. Done.

What has been the response? Great. Fans across the world responded by changing their cover photos. The campaign was shared by a number of professional basketball players and various basketball organisations on Twitter.

How did you get into advertising? Eight years ago, I put together a creative portfolio of speculative work (it was awful). A small boutique agency in Soho took pity on me and gave me a job. I've never looked back.

What inspires you? People. Anyone who excels in their field. Whether that be in the creative industries or on the basketball court.

Who is your favourite NBA player? I'm actually a big fan of the LA Clippers, so there was a vested interest. The best players in basketball often come in twos. My favourite right now? Chris Paul and Blake Griffin. Google them if you think basketball is boring.