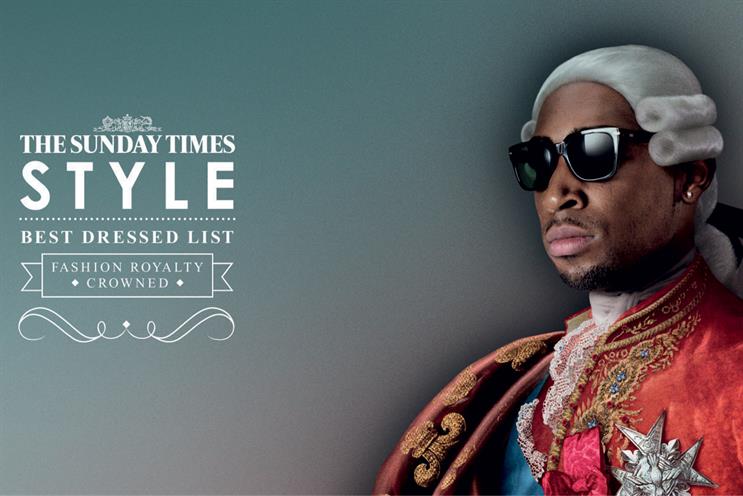 WHAT HE DID Musgrove heads Grey's creative production division and is responsible for making the recent Sunday Times Style "fashion royalty" campaign happen. A simple idea beautifully executed, it was a logistical minefield – not least getting permission to use the celebrities' image. "It wouldn't have happened without him," the work's creative director, Dave Monk, said.
Tell us something about this project. It was very nearly a different project. Originally, we were going to illustrate but, once we got into production, we decided that photography was going to look better. This turned out to be more intricate than we'd anticipated (well, hoped for) and many hours of image-searching, rights-clearing, retouching, replica wig-making and styling (we're looking at you, King Louis XVI) ensued.
How did you get into creative production? I was living on a plantation in the West Indies and, by chance, did some work for Saatchi & Saatchi Barbados. That went well, I stayed and eventually got transferred back home to London. Crap weather, but it's the most creative city in the world.
What inspires you? Really good creative work; work that stops people in their tracks and gets them talking. I love working with talented, interesting and creative people who think anything but linearly. I firmly believe the best route isn't necessarily the easiest one and getting great, risk-taking creative approved and out the door is always worth fighting for.
What are you most proud of? My three beautiful children. On a work level, the Best Dressed campaign is one of the best I've ever worked on. Getting the photographer Chris Levine to let us use his iconic portrait of the Queen (which is currently on display in The National Gallery) was a definite highlight. We were also very clear which celebrities we wanted to feature. There were certainly easier targets than Kate Moss, Victoria Beckham and Tinie Tempah, but getting permission to use all three was a real bonus and faithful to the original creative idea. We didn't say no when presented with obstacles and we didn't water down what we believed to be the best concept.
What are you working on next? More News International briefs with our executive creative director, Nils Leonard, Monk and the team – they're a great client who get the value of creativity and conversation.
Tell us something interesting/unusual about you. I used to swim for Hampshire.