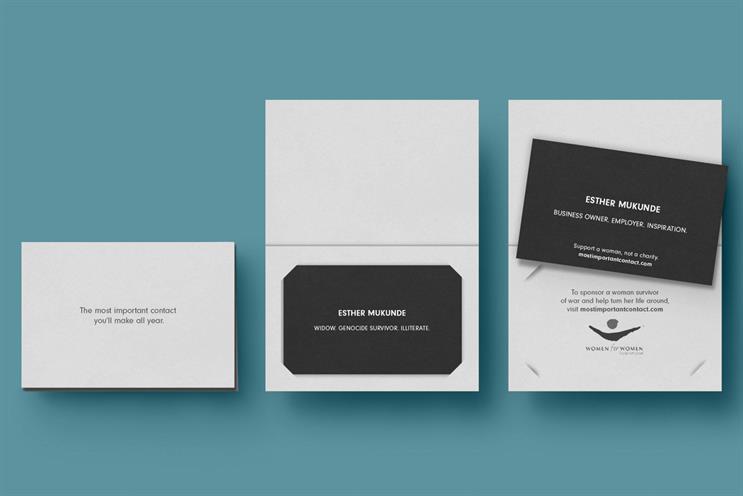 Tell us about the project. Our challenge is to recruit sponsors, who make a monthly donation of £22 to support a woman through our year-long training programme in countries affected by war and conflict. Each sponsor is connected with an individual as she gains skills to support herself and become an active participant in her community.
The campaign aims to inspire people to "support a woman, not a charity" and focuses on one woman's story – Esther Mukunde from Rwanda. A pack contains Esther's business card with "Widow. Genocide survivor. Illiterate" on one side and "Business owner. Employer. Inspiration" on the other. It drives people online to find out more about Esther's story and enrol another "sister".

Why did you decide to focus on individuals? When we see conflict on the news, women are usually missing or portrayed as faceless, helpless victims. We wanted to challenge that, emphasising the positive, active roles that women play during war and in its aftermath.

How did you find the 'sisters'? Teams across our eight countries of operation work with local communities to find the most marginalised women in places affected by war and conflict – many are widows, refugees or victims of rape and torture.
Can you tell one of their stories? I met Berina in Rwanda last year. Her husband was killed in the genocide and she was left struggling to bring up her four daughters. She lost her arm in an accident and was unable to farm. After going through the programme, she set up her own business producing a pineapple drink. She began turning a profit, took out a loan and bought a commercial juicing machine. Berina now employs a large team of men and women from her community.

What type of skills will they be taught in the programme? Women will learn a skill tailored to their local market, such as brick-making or poultry farming, as well as business skills and basic numeracy so they can sustain an income. They will learn about their rights and freedoms under law so they can protect themselves, as well as health, hygiene and nutrition.

How did you select your target audience? We're targeting professional women who are successful in their careers and believe in opening doors for others.

What's the next project? We'll continue working with Lida on a second wave of this campaign, scheduled to launch in the autumn.