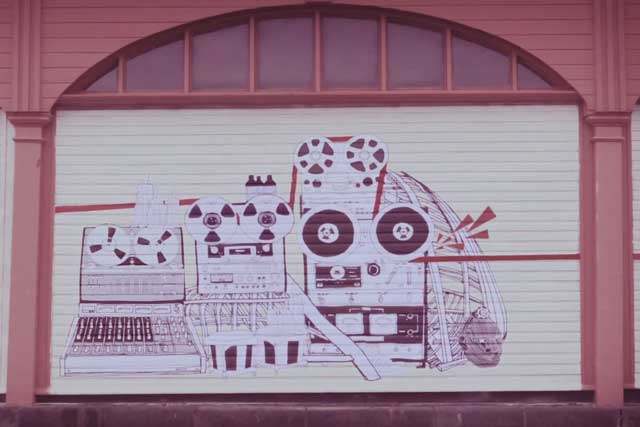 How He says: "The shutters were primed on an overcast, cold day. What followed was 50mph storms, below-freezing temperatures, rain, sleet and, on day three, a snow storm! Have you ever stood in a storm-force wind with a delicate paper paste in one hand while you cling to the scaffolding tower with the other? Not recommended."
Inside Spaceboy
The reason I got into animation was ...
Originally, I studied graphic design in art school and specialised in motion graphics, but I never used these skills commercially. When I left graphics to take up my art practice, I drifted even further from this discipline. That's why I was so excited when the Red Stripe collaboration with Blac Ionica came about and I could explore stop-frame with the installation while the guys took up all the motion-graphic duties.
I'm most proud of ...
The next piece - always the next piece.
The biggest influence on my career so far has been ...
Faile, the Brooklyn-based artists. Their street art/public art fusion piece, Temple, transcended street art in some ways but kept its tension.
My favourite piece of animation is ...
Persepolis I felt was really well-handled. Also, the work of Michel Gondry, although he's probably very much a film-maker now. Some of the sequences in The Science Of Sleep are inspiring. More inspiring than animation for me, though, are graphic novels. I just finished Habibi by Craig Thompson, which is a truly amazing piece of work, and an all-time favourite would be Charles Burns' Black Hole.
One thing you don't know about me is ...
I keep my secrets. The only skeletons in the cupboard I'm willing to explore are drawn with a 0.5 Rotring pen into my work.