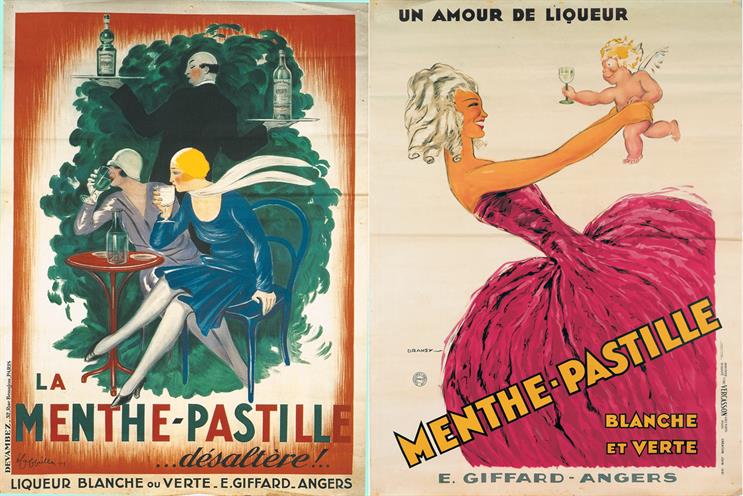 Tell us about this project. There are works by Ogé, Cappiello and Misti, many of which have not been seen publicly for a century and have never been shown as a collection. London is the first stop on a world tour – it can be seen until 18 October in the Central Avenue of the Covent Garden Market Building.

Why are you touring the work? The artwork captured the cultural zeitgeist of turn-of-the-century France and often depicted the geopolitical climate with a satirical sense of humour – so much so that some work had to be removed at the onset of the First World War due to public sensitivities.
The work pushed production boundaries – this collection documents the evolution of outdoor advertising as much as it captures a rapidly changing society.
Giffard's brands are associated with cocktails and, after London Cocktail Week, the collection will be shown at major cocktail events in Europe, the US and Asia.
What is it about Giffard's work that you like? The art has remained in the Giffard family for generations. Recently, a few pieces went on display in the new distillery and they stopped our creative team in their tracks. Not only is the art gorgeous but it reflects the pace of society and the changing way that people engaged with advertising. The 1903 and 1913 works by Ogé show a caricature of each head of state with subtle digs. The audience was largely on foot or horseback and had time to study the detail. "Two ladies" in 1929 has far less detail, but it does have a sense of motion because increased use of the motorcar reduced the amount of time available to view the work.

Which are your favourite posters? The 1907 "faun" by Cappiello, the 1929 "two ladies", again by Cappiello, and the 1931 "woman and lovely angel" by Misti.

What could modern outdoor advertising learn from this work? Advertising has always been the creative use of art to achieve a commercial imperative but, before we submit our work, we should ask ourselves if a 22nd-century creative team would be so blown away by our creative that they would want to take it on a world tour.