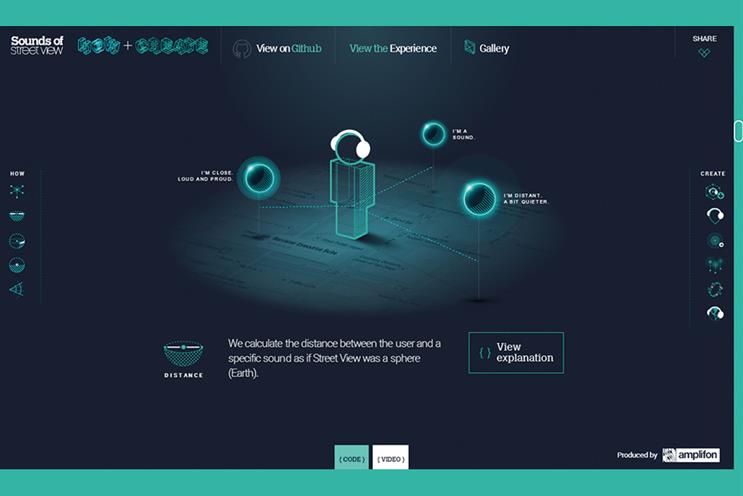 Tell us about the project. Amplifon's aim is to help improve people's quality of life. By making Google Maps audio-enhanced, it has given visitors something to think about: what the power of sound can do and the importance of sound in our everyday lives. It is quite a revelation when you say it out loud – that everyone travels the world digitally without hearing a single thing, despite there being so much technology on offer for everyone to enjoy what hearing can bring to human beings.

How did you choose the locations? We looked for locations that were of interest to us, which had elements suited to having sound added. We also wanted locations that had obvious visual boundaries.

How did you make the sounds? The sounds for the three published locations were sourced predominantly from online audio libraries. They were then edited and optimised to reduce file sizes before being placed at the appropriate locations.
How did you get the sounds to move? Google Maps markers use a latitude and longitude value. These can be placed with ease and normally have an image associated with them. We used these markers, but replaced each one with an individual sound. In our examples, each location has 50-60 sounds all situated in particular places.
By using fairly intense maths, we gained the user's distance to each sound and found the angle of the user's left and right side to the sound. This dictates how the volume is shared between each ear. Sound is muffled gradually the more "behind" a user it is, so we also applied filters to the sounds depending on relative position to the direction a visitor is looking.

What do you hope will happen next? We hope to see more people getting involved in making Street View locations more immersive through the addition of 3D sound. Hearing is a sense many of us take for granted – it's not until you experience something both with and without sound that you think about the difference it can make.
It is an exciting time for web developers as the landscape, and what can be achieved, is changing so fast. The new creative opportunities are plentiful.