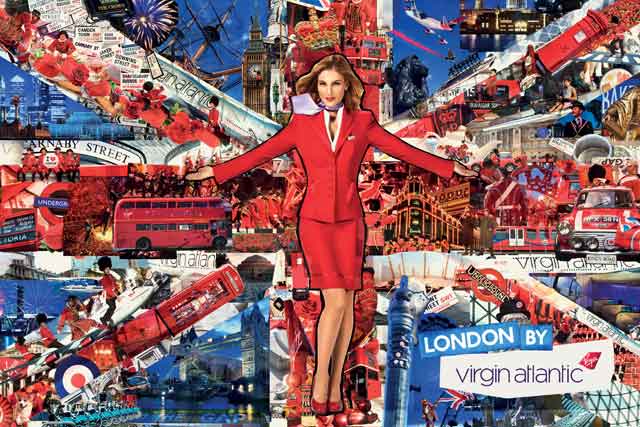 How TB-D: "It is always hard to mix 'punk' and the demands of a corporate organisation, but we were given plenty of freedom. We to-ed and fro-ed with the Jamie Reid paintings and some layering ideas David had." DB: "It got more complicated the more images that were stuck down. I've lived in London for 40 years and it really opened my eyes to how much visual stimulus I take for granted.
Inside Bret-day and Bray
The reason I got into photography/art was ...
TB-D: I wanted to be Helmut Newton ... and meet loads of birds! DB: The only thing I was good at was drawing and making images. I tried being a graphic designer but the letters got in the way.
My best career bits so far are ...
TB-D: Working with Jodie Harsh and his crew. They do everything with a great deal of camp self-mockery. DB: Working on the Harvey Nichols "HN on earth" campaign. How I met Tim. Getting flown by Diesel to Hong Kong for a gallery show. Absolut treating me to a week in a five-star hotel in Lisbon in order to make some very large drawings.
The biggest influence on my career has been ...
TB-D: National Gallery for structure. But it's always been Lord Bourdin's women. DB: My brother. He is an excellent draughtsman, and I was determined to be better than him.
I'm really inspired by ...
TB-D: Bill Shankly, Richard Avedon, Jeff Koons, Karl Templer, Newton, Jean-Paul Goude. Also being able to pay my kids' school fees. DB: Fear.
My favourite piece of art is ...
TB-D: Anything given to me in a true act of generosity. DB: Anything by Robert Longo.
You probably don't know this but ...
TB-D: I still fantasise about scoring at the Kop end. DB: I've licked a Picasso.