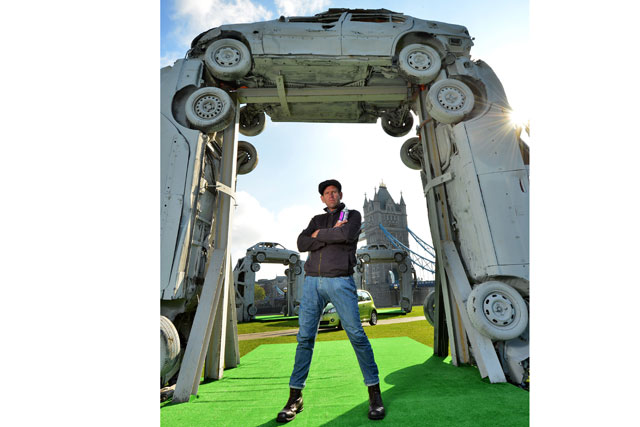 HOW: He says: "Art and health and safety don't go hand in hand. The transition of an idea from your head to putting it down on paper and making it a reality is always challenging. In this instance, our main challenge was health and safety as we were dealing with a high-footfall public space and 18 scrap cars. Initial sketches of Citihenge were shared with structural engineers to ensure the site, Potters Fields Park, was happy with housing such a large-scale sculpture ... the sketches were changed, the cars needed further support. We revised the sketches - the new additions meant each henge could withstand force-12 hurricane winds. In this instance, health and safety's interference became part of the story and part of the sculpture's journey."
Inside Gunn
Why did you get into sculpture? I spent much of my childhood on my uncle's farm, surrounded by machinery, and I was always fascinated by tractors. This became my passion, working with machinery parts and developing outdoor sculptures.
What are the best bits of your career so far? Highlights include working on a sculpture for the Tour de France and winning first prize at a Chelsea art gallery for a self-portrait sculpture made out of steel. Citihenge has been my biggest piece of art to date.
What has been the biggest influence on your career? I particularly love rusty old farm machinery and yards full of stuff that's been lying around untouched for a long time. I'm fascinated by shapes and how things fit together to create something new.
What is your favourite piece of sculpture and why? I love Antony Gormley's Angel Of The North: it's big, powerful, symmetrical ... just stunning. I also love Thomas Heatherwick's B Of The Bang - a metal sculpture of an atom exploding. It's awesome.