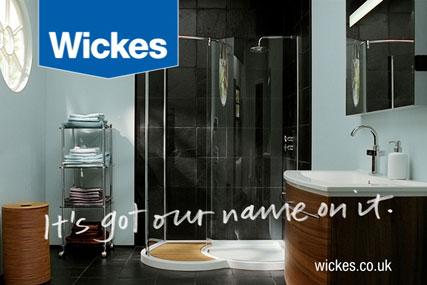 Wickes is to widen its advertising strategy to focus on the competitive pricing of its own-brand products.
A series of ads for the DIY retail brand, to be rolled out from tomorrow (Thursday), will introduce the 'Smart value' message, which is intended to emphasise the 'intrinsic value' of the products, while continuing to flag up their high quality.
The push, created by ad agency MWO, comprises 10- and 30-second TV spots supported by national print and point-of-sale activity,
These will highlight a 33% discount on a range of products, including paint and flooring, until 1 September. The promotion has been timed to coincide with the August bank holiday, which is traditionally a popular weekend for carrying out DIY work.
The activity forms part of Wickes' ongoing 'It's got our name on it' positioning, which emphasises the idea of gaining a sense of professional pride in doing a DIY job well.
As with other recent TV ads for the retailer, the spots feature a voiceover by actor Timothy Spall.
Wickes marketing director Rob Murray pointed out that, in contrast to competitors, the retail chain had previously steered clear of talking about deals and discounts.
The brand has rolled out limited price-promotion activity at relevant times of the year, but this is the first time it has integrated the 'Smart value' message into its above-the-line communications.
The activity, which forms part of a wider three-year marketing strategy, comes at a time when the wider DIY retail market is slowing due to the effects of the economic downturn.