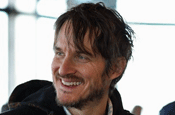 Kling replaces Al Moseley who left the agency to join Hurrell Moseley Dawson & Grimmer as a partner last year.
During his three years at Euro RSCG, Kling was involved in the wins of Jaguar, Dos Equis, Uniqlo, and Clearasil. He also served on the global creative board of Euro RSCG Worldwide.
He starts his post on next week and, like Moseley, will partner with John Norman overseeing creative across the agency's accounts including Nike, Coca-Cola, Electronic Arts and P&G.
Before Euro RSCG, Kling held a number of roles at Wieden & Kennedy, serving time in both its Portland and Amsterdam office.
Dan Wieden, chief executive officer and global creative director at Wieden & Kennedy said "With both Jeff's and John's experience combined, the partnership can further develop the success of W+K Amsterdam and maintain the creative culture that has thrived in our Amsterdam office."