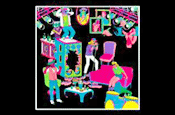 W&K created the title sequence The Nokia Green Room, on behalf of Whizz Kid Entertainment and Nokia.
The sequence sees animated characters including a barman, rapper, guitarist and technicians building, and performing on, stage.
The Nokia Green Room runs for 15 weeks and will feature live music as well as "reality-style" outtakes in the green room where acts interact before they go on stage.
Content will be shared between the 30-minute show and outtakes and clips made available through Nokia handset and on its online store.
The programme starts at 2.20pm this Sunday and will also form part of 4Music Sundays on 'The Hits' channel. Confirmed acts for first show include Chris Brown and The Courteeners.