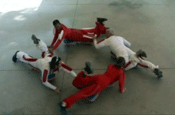 The campaign, which features the endline "Difficult is worth doing", comprises of four short clips without any Honda branding.

Each talks about different aspects of the skills required to create large skydiving formation.

The end of each clip features a link to the web address: www.difficultisworthdoing.com.

The site talks about the making of the commercial which has been shot at The Perris Skydive Centre in California.

It outlines further details of the shoot in a bid to generate interest ahead of the TV ad launch.