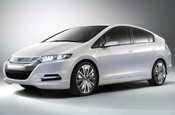 The first project will be the 2009 launch of the car company's new hybrid car – the Insight.

The new account will be run out of Wieden & Kennedy's Amsterdam office, with the London office continuing to run the Honda UK business.

Dave Luhr, the global chief operating officer at Wieden & Kennedy, said: "We're absolutely delighted to broaden our relationship with Honda internationally.

"Honda is a truly great client and has an outstanding environmental story to tell."

The new campaign is intended to run across Europe, the Middle East, Africa and Russia.

The new Honda Insight is due to go on sale in spring 2009 and a concept version of the hybrid car was displayed at the Paris Motor Show in September.

Described as "an affordable family hybrid" car, the Insight will be a direct competitor to Toyota's hybrid car, the Prius.

Wieden & Kennedy was appointed to the main Honda account in 2002 and, since then, has created a number of high-profile and award-winning campaigns, including "cog" and "grrr".