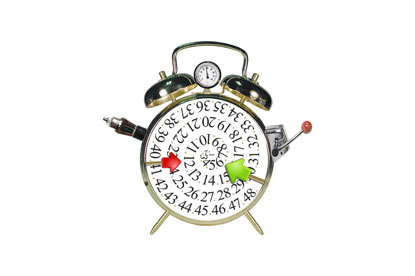 The letter "X", which has remained empty since the installation was launched on 3 July, will be filled by a creation titled "Xtra time".

It will form part of the Future A-Z window display, a vision of products that could revolutionise our lives in 2109, that was produced by Wieden & Kennedy to celebrate the 100-year anniversary of Selfridges.

The idea takes the form of a clock that can bend and stretch time while the user stays within the usual 24-hour day.

Although its exterior is that of an old-fashioned alarm clock, the numbers appear in a 24-hour spiral.

Devised by Brenda Durham, the winning concept was selected by a panel of experts including Dr Frances Corner, a professor of art and design education at the London College of Fashion.

Tom Seymour, a Wieden & Kennedy creative said: ''The 'Xtra time' clock was a fantastic edition to the crazy sensibility of Future A-Z 2109.

"It completed it perfectly. Brenda's entry was a really nice insight into how in today's society time is one of the most important commodities. An ideal solution to an everyday problem."

"Xtra time" will take its place in the A-Z line-up on Saturday 8 August.