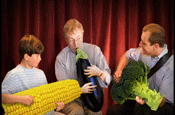 The account was moved to W&K, which also handles the £5 million flagship Guardian business, without a pitch.
Carolyn McCall, chief executive of Guardian Media Group, confirmed Mother had resigned the account.
Marc Sands, marketing director at Guardian Media Group, said: "We're increasingly running promotions across both papers and it makes little sense to have two agencies working separately on projects that are frequently joined.
"The pitch that Wiedens did last year was fantastic and their understanding of a difficult brand has been exemplary. The recent work has been incredible."
W&K was added to the Guardian Media Group's roster in August last year after it picked up the Guardian account.
It won the account in a two-way shootout against The Red Brick Road, following a pitch process that lasted more than six months.
Fallon was eliminated from the process at an earlier stage, while VCCP withdrew from the contest over a potential conflict with its Metro client.
Mother picked up the Observer business in December 2001 following a five-way pitch that included M&C Saatchi, Fallon, Leagus Delaney and Malcolm Moore Deakin.
The account moved because the newspaper clashed with Ogilvy & Mather, its incumbent agency, over a disagreement in strategy.