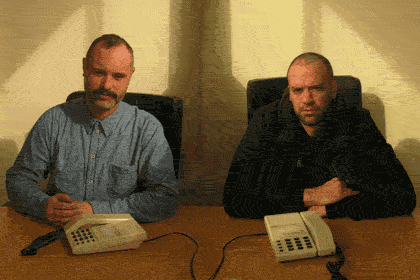 A conversation with Robert Doubal and Lolly (Laurence) Thomson, creative directors at Wieden & Kennedy London, can feel like you're hanging out with a pair of comedians.

Both see the funny side of what they do and like to provoke a reaction. "It's good to get your ads banned," says Thomson, the art side of the partnership. "We did a poster for the UK TV Style programme Extreme Makeovers with the strapline 'Bless this Crack House'' in a framed floral cross-stitch picture. Lambeth Council tried to ban it, but because it reflected the content of the shows, they couldn't."

This Baddiel and Skinner act ("I'm 35 and Rob's 30, so we balance out at 32," says Thomson) has yielded creative rewards. Doubal's Snoop Dog Goldspot for Orange, created while the writer was at Mother, was voted the 7th funniest ad of all time by Campaign.

Then there's the constant self-deprecation: "Will we make it on to the Campaign A-List? We're happy to be on the C-List," Doubal says, revealing that his most red-faced moment came years ago on realising why David Ogilvy had not responded to his letter seeking advice. The great adman had been dead for a number of years. "I was mortified," Doubal says, who vowed then to start reading Campaign "to keep in touch with things".

Between them Doubal and Thomson have won several accolades, at D&AD, Cannes, The One Show, The Clios, The Andys, The Campaign Big Awards, BTAA and The Aerials, Young Guns and the Guardian Media Innovation Awards. Their work includes the Coca-Cola 'yeah yeah yeah la la la' campaign and the 'London Ink' installation - the creation of two giant, tattooed sculptures that appeared in London for two weeks to promote a series about tattoo artists for The Discovery Channel.
Higher profile
As a creative force Doubal and Thomson are starting to become more high profile, underlined by them joining W&K in April from Mother. "Rob and Lolly is a lesser known talented team who 'just do it' and we have know them since the start of their career," says Liz Harold, managing partner at LIZH.
She adds: "We see a lot of creative talent walking through the LIZH door and every now and then a team comes in, doesn't necessarily have their work in an organised way to show you, but bowls you over with their excitement and enthusiasm."

They first worked together at Mother in 2006 when Doubal arrived to work on the Orange account, hailing from a small creative shop in Amsterdam called John Doe. There he had created ads and a character for MTV - "quite a cool thing to do" - which saw the Benelux MTV network voted the most creative of MTV's networks worldwide.

By the time the pair hooked up Thomson was already a Mother veteran, having started at the agency in 2001, notably making it into the National Portrait Gallery for his Powerade work in 2008. Before Mother, he worked as a freelance illustrator and after graduating with an MA in communications design from Central St Martins in 1999, joined digital hotshop Deepend as a senior designer.

The pair's output spans all platforms, and there's a reluctance to categorise by channel what they do. "When we approach a task, we are not media specific," Thomson says. "Modern creative involves ideas that work on any platform, choosing the right idea to shout about."

W&K is "so good at navigating this new landscape," Doubal says, adding that they felt there was "never a good time to leave Mother". They are still dewy-eyed about W&K's creative reputation, stressing that they joined the agency largely for the chance to work with W&K's creative supremos Tony Davidson and Kim Papworth, the brains behind W&K campaigns Honda Cog, Nike's St Wayne poster of Wayne Rooney and Flat Eric for Levi's.

"We just saw Dan (Wieden, founder of W&K) yesterday for work on global projects," says Doubal. The agency is very good at harnessing non-traditional advertising skills, he says, "from programmers, to chefs to submariners". Chefs? Such is Doubal's light-heartedness, it's hard to tell if he's being serious.

Brand challenge
But despite the wisecracks, Thomson and Doubal have a level-headed approach to confronting challenges. The recession-induced cuts in client budgets are "nothing new," Thomson believes, while Doubal argues that the downturn doesn't alter the constant challenge of "brands that need appropriate ideas and the right media".

He firmly believes people of his generation should pass the message on about advertising's changing landscape to students. "We've done a few chats with at LCC (London College of Communication) and the students responded really well," Doubal says. "We gave them a brief they wouldn't normally get, and said that they had three weeks 'to make the news'. They could do this any way they liked, as long as they didn't break the law. It was an exercise in exposure and grabbing the headlines."

To Thomson and Doubal's delight, one of the students managed to get coverage in the Daily Mail. "It's an important lesson to learn as the media space becomes more cluttered," Doubal concludes.