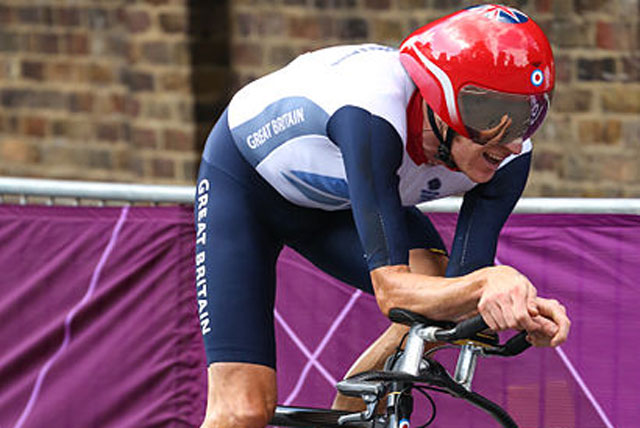 Bradley Wiggins's gold medal victory saw Twitter traffic peak yesterday, with 237,524 tweets sent about the men's cycling time trial.
According to data from Starcom Mediavest Group, the 240,000 tweets sent relating to the time trial peaked at about 12,000 per minute, when Wiggins finished his ride.
This is more tweets than was sent during the penalty shootout between England and Italy in the Euro 2012 tournament in June.
Bradley Wiggins was mentioned about 117,000 times over the course of the event, which is three times more than Danny Boyle was mentioned during the Opening Ceremony, according to Starcom MediaVest.
Wiggins's Twitter followers have shot up by 27% over the past week, in the lead-up to the race and following his Tour de France victory, rising from 296,801 on 27 July to 381,204 yesterday, according to data from Wildfire Interactive.
Meanwhile Wildfire's data show the number of his Facebook fans grew by 11% for the same period, ending yesterday with 40,668.
The London 2012 Olympics has been billed as the first "social Olympics" and so far Twitter has been seeing significantly higher traffic than the Beijing Olympics, four years ago, when the platform was still in its early years.
Just under 9.7 million tweets about the Olympics were sent during the Opening Ceremony last Friday (27 July), which is 125 times more than on Opening Ceremony day in Beijing four years ago.
Peaks in Twitter conversation include:
Rowan Atkinson appearing as Mr Bean in the Opening Ceremony (27 July)
The race between US swimmers Ryan Lochte and Michael Phelps on Saturday (28 July)
Spain getting knocked out of the football (29 July)
Tom Daley competing in the men's synchronized diving and missing out on a medal (30 July)
Michael Phelps winning gold and becoming the most successful Olympian of all time (31 July)
Twitter said 1.2 million "good luck" tweets have been sent since the start of the Olympics.
While Twitter traffic has been soaring, the social media platform has been the centre of controversy, including the furore over its deactivation of Guy Adams's Twitter account following a complaint by its commercial partner NBC, which it reversed, and the platform being used by a 17-year-old to send abusive tweets to diver Tom Daley.
Follow @shearmans