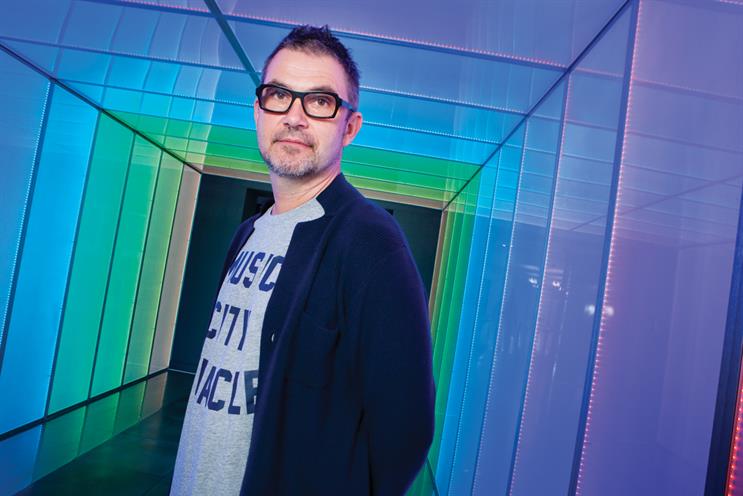 Sometimes, a career move is a decision of the heart.
Last year, Jon Wilkins quit Naked, 13 years after launching the pioneering communications planning network. He had just lost his fellow founder and "soul mate", Jon Harlow, who passed away in August aged only 45.
Although Harlow had left Naked the previous year, his death cemented Wilkins' feeling that it was time to say goodbye.
"Last year was quite emotional," Wilkins says. "I lost someone I really cared about and it just felt like the right time to move on. Even though he wasn't in the business, he was still my partner."
Wilkins, Harlow and the third founder, Will Collin, were poster boys for independent agency success, the self-styled "brilliant misfits" taking Naked from plucky UK start-up to global operation across 16 countries.
They sold their business in 2008 to the Australian company Photon for a combined £35 million.
Naked's business model pioneered the new approach of media neutrality and "got up the noses" of global holding companies – something Wilkins remembers fondly. "We were a bit like Robin Hood, really," he muses. "We went around the world collecting our Merry Men, and started offices based on a sort of spirited defence of what we felt was the right way to do things. We weren't really interested in it being a business; it was more of a movement."
Wilkins has spent the past two years in the US as Naked's chairman, but as an employee rather than an owner after the earn-out period: "I'll be honest, it was difficult: trying to influence things when, ultimately, it's not your call any more."
So his next move – becoming the executive chairman of the quirky UK independent agency Karmarama – is something of a spiritual, as well as a physical, homecoming. "I always loved soulful companies; companies that have a bit of spirit," he says.
At Naked, Wilkins worked on Karmarama's early campaign "Tokyo life" for Selfridges. The two agencies launched at the same time, but while Naked stretched itself across the globe, Karmarama has remained on home soil.
If all goes well, he is hoping to ride the same wave of idealism that propelled Naked: Karmarama is hungry for global expansion and Wilkins' remit is to spearhead it.
Karmarama might seem an odd choice given Wilkins' background. Naked evolved out of PHD, where he was the managing director after a career including early roles at Granada and MTV Europe. "I'm not really a media bloke – this is one of the wonderful myths of my past," Wilkins says. At PHD, he ran the creative communications division – covering areas such as content and sponsorship. "I've never worked in planning and buying in my life," Wilkins explains.
Having spent the recent past across the pond, he remembers Karmarama as a "really good creative boutique". Since gaining private-equity investment from Phoenix Capital Partners in 2011, it has grown to become one of the UK's biggest independent agencies, with 250 people and two acquisitions (Grape Digital and Crayon Group) bolstering the digital capabilities of its parent, Karma Communications Group.
There are no politics, no silos, everybody really likes each other, everybody wants to make it work
His time away from the UK means Wilkins wasn't exposed to the effect his predecessor, Nicola Mendelsohn (who he calls "the nice lady who's at Facebook" when he momentarily forgets her name), had on the agency, boosting its profile in the industry and helping to create an enviable culture, although some feel the creative work has yet to reach its potential.
Three days in, Wilkins is fired up about his new colleagues: "There are no politics, no silos, everybody really likes each other, everybody wants to make it work. I've been in big holding companies where the divisions are too deep between the individual disciplines."
Karmarama is building global relationships with its clients, including an appointment by Costa France this week.
The agency has the vision to succeed abroad, Wilkins feels, but it needs to strengthen the products and services it can offer. "To be in the export business, you have to have IP, and that's something we need to work on," he explains.
"If you go into another country, they might know you're a cool agency with good people, but they want to know what you're going to give them to make it worth their while. That used to be about global client connectivity, but now it's often about the ethos and the approach to delivering solutions that partners in other countries can pick up and work with."
The first target will be the US – naturally, using Wilkins' connections. He is keen to pick launch markets more strategically than Naked did, after witnessing office closures and staff cuts during his earn-out period when funds dried up from Photon. Photon rebranded as Enero after being on the brink of collapse.
One thing that didn't diminish, however, was Wilkins' enthusiasm. "We'll definitely have Karmarama in other countries in the next couple of years, and it could happen earlier," he says. "I'm a big believer that if you behave in an entrepreneurial and progressive way, like this place does, you can have the best-laid plans but sometimes opportunity just comes and smacks you in the face."