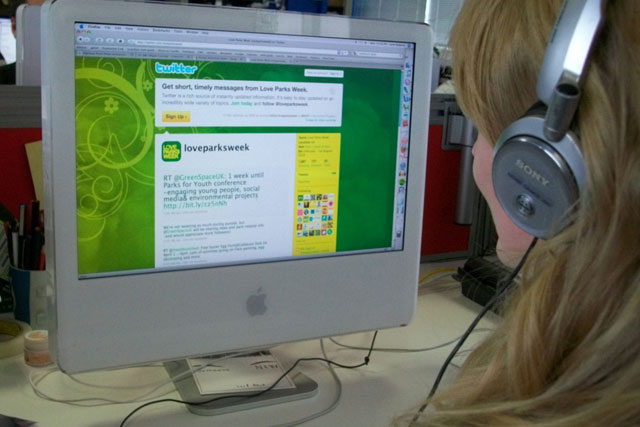 In presentations to media agencies over the past couple of weeks, Twitter's sales people have been, perhaps understandably, rather prone to hyperbole. After all, they're pitching Twitter as something more than a mere social media platform.
It is, they say, an utterly new phenomenon - not just a window on the world but a positive force in shaping it. (Needless to add, they're rather keener on talking about the so-called Arab Spring than the UK's August riots.)
Advertisers, they argue, would be foolish not to go where the real action is these days - and as of October, the marketing community will have even less of an excuse to pass this opportunity by.
Twitter is now offering promoted Tweets, promoted trends and promoted accounts - vehicles that have, in theory, been available on a global basis via Twitter's US-based sales team, but which are now being packaged up specifically for the UK market.
It's almost impossible for Twitter to overplay its hand currently, though some agencies argue that it has become dangerously close to doing just that - though it's fascinating to witness the extent to which media agency sources are reluctant to take a public stance on Twitter's more fatuous claims.
Some are even reluctant to go on the record as regards the more technical aspects of its virtues as a media channel. For instance, the extent to which the Twitter audience is dominated by the Metropolitan chattering classes - not always a priority for mainstream advertisers.
Or the notion that some car marques, energy companies, financial services organisations and media owner advertisers will remain wary of Twitter and the pernicious potential of the flash-mob mentality it sometimes engenders.
Undoubtedly, though, many advertisers will be more than amenable to exploring this opportunity. Absolutely, Norm Johnston, the global digital leader of Mindshare Worldwide, agrees. He says many clients are keen to experiment with this new opportunity - however, he adds, this won't be for everyone.
He explains: "It will probably appeal most to direct response clients who have frequent promotional activity. However, some FMCG brands may use it for social CRM and the odd clever campaign. The trick will be to keep the ads relevant so they avoid being perceived as intrusive and adding more clutter to a relatively simple experience. And it will help to show ads only to those who follow the brand."
Absolutely, Will Smyth, the head of digital at OMD, agrees - though he's slightly more upbeat. He states: "The interesting thing from an agency point of view is how it will be serviced. If you're going to do this, you need to have someone managing the community - and that will have implications for how it's resourced. For instance, if more than one advertiser is interested in a particular audience, then a biddable model will come into play and you will need someone with pay-per-click skills to buy it. And, of course, you are also going to need to include people who know what to say and how to say it in 140 characters. So, if you have something interesting to say, that's going to involve a confluence of skillsets. Generally, we are ready for that - and we're open-minded. I think the important thing is not to have inflated expectations."
In fact, Amy Kean, the director of social media at Havas Media Social, says, Twitter will need to have some early success stories it can point to if it's to build on the early interest it's likely to attract.
She explains: "Right now, I would imagine most UK agencies, us included, are falling over themselves to be one of the first to try a promoted Tweet or trend - but we need to see results over and above any increase in Twitter followers to decide whether the advertising can actually meet our objectives.
"I also hope marketers remain mindful of the need to be creative. The promoted element will make your message stand out but it will resonate only if it's creative, timely and based on insight. A hashtag isn't enough to guarantee success."
Meanwhile, Tim Hoang, a senior social media consultant at VivaKi, also sounds a note of caution. He concludes: "Whenever a social network tries to monetise its user base, this is usually met with both cynicism and scepticism. The idea that brands you don't follow can penetrate your personal Twitter stream sits uncomfortably with many users. Advertising remains an uneasy compromise between the media owners and the consumer. If users begin leaving the site, then so will the advertising revenue."
MAYBE - NORM JOHNSTON, GLOBAL DIGITAL LEADER, MINDSHARE
"It has taken a long time for Twitter to set up (commercially) in the UK and it feels like it's a little late to the party. Having said that, we have many clients interested in exploring advertising opportunities with the company."
YES - WILL SMYTH, HEAD OF DIGITAL, OMD
"Advertisers should be excited by the prospect, provided they are confident they can be relevant. You need to think it through properly and be aware of how your audience is likely to respond."
MAYBE - AMY KEAN, DIRECTOR OF SOCIAL MEDIA, HAVAS MEDIA SOCIAL
"If Twitter's strategy is all about making the advertising work around consumer behaviour rather than the other way round, then, yes, it could be a hit."
MAYBE - TIM HOANG, SENIOR SOCIAL MEDIA CONSULTANT, VIVAKI
"Advertisers should only be excited if they are willing to provide content that is contextually relevant or useful to consumers. Twitter also has to ensure its targeting is solid and the number of promoted Tweets do not annoy the user."