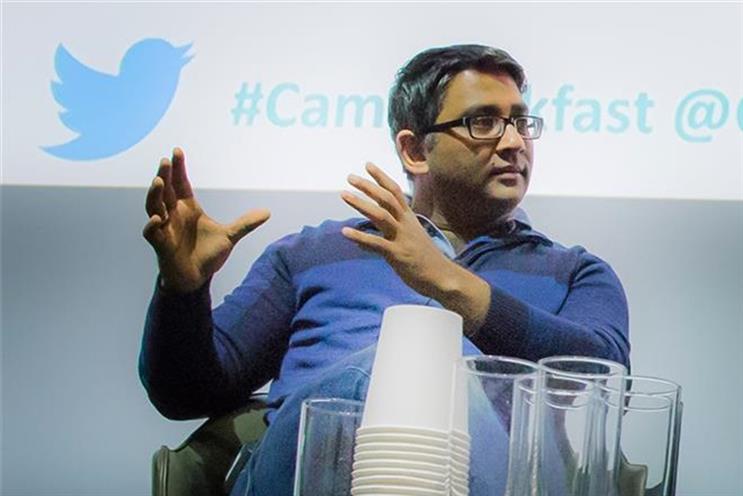 Brands taking their media planning and buying in-house has shot up the agenda because of the crisis of trust and brand safety dogging digital advertising and the technology that is allowing marketers to do more themselves.
Accenture Interactive is in talks to set up in-house media trading desks for a number of clients.
Joy Bhattacharya, managing director and UK and Ireland lead at Accenture Interactive, told a Campaign breakfast briefing that there has been "a lot" of discussion with clients, particularly around "programmatic and all this stuff coming out" about a lack of transparency and fraud in the digital media supply chain.
"My view would be that's the way you can drive [a] complete level of transparency," he said.
Blackwood Seven, the Danish artificial intelligence agency that launched in the UK last year, is an example of a smaller insurgent that is selling itself to brands as a way to buy media more efficiently and transparently.
These efforts to empower brands to in-source their media present a disruptive threat to traditional agencies. And it is part of a wider trend as marketers look to be more closely involved in the creation and distribution of content, particularly on digital platforms.
The big money is in distribution, which is why the rise of the in-house trading desk is such a hot issue.
Brian Wieser, senior research analyst at Wall Street company Pivotal Research, observed in a note to clients this month that there has been a "significant escalation" in brands taking media in-house.
His research found that 15 leading US brands "have brought programmatic media buying in-house" and "taken it away from holding company agencies" in the recent past.
"But how significant a change was this finding?" Wieser asked. "Not quite as much, as we discovered many of them continue to work with agencies for most of their related needs. In-house buying exists along a continuum, with a range of responsibilities divided up between marketer and agency."
He added that the role of agencies as trusted advisors could increase, even as brands try to take more control.
Agencies also point out that in-house media planning and buying has been tried before by brands with mixed results.
"I've seen a lot of cases where brands take media in-house and then they realise they can't do it and give it back to agencies," one agency leader says. "With digital and the detailed targeting you need, what you're buying from agencies is expertise."
But, in the short term, the trend of brands going in-house will give agencies plenty to worry about.
David Ellison, marketing services manager, ISBA
"Transparency is high on most advertisers' agenda, so it's not surprising that advertisers are looking to action at least some of their programmatic strategy in-house.
"A number of advertisers have established data management platforms in-house."
Brian Wieser, senior research analyst, Pivotal Research
"More brands will set up in-house trading desks for programmatic media buying, but it will be relatively few – and fewer still will abandon agencies.
"Agencies will offer expertise and best practice in analytics, trading and vendor selection."
Catherine Becker, chief executive, VCCP Media
"It is a growing trend.
"We buy digital transparently and are platform-neutral, rather than having an opaque trading desk in-house, so often advise clients on the best way to do this and how to get the most out of the technology and optimise the targeting."
Carl Erik Kjærsgaard, chief executive and co-founder, Blackwood Seven
"The media agency business is being automated and brands setting up their own trading desks is part of that process.
"What brands will gain through technology is greater control and transparency over how their media budget is spent, as well as greater efficiency."