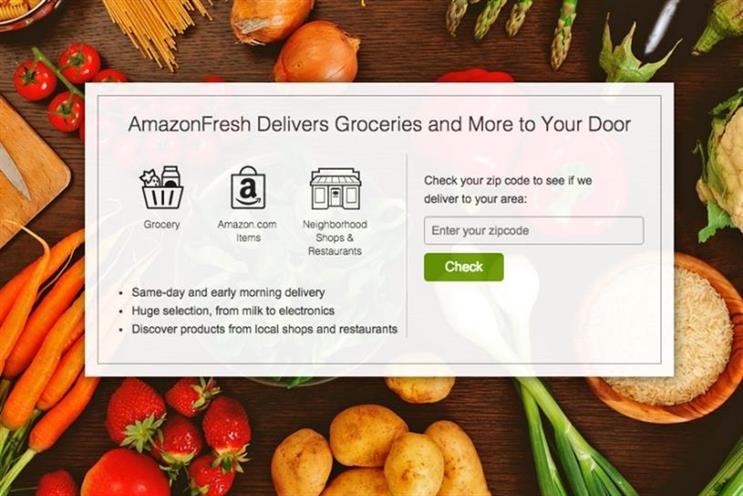 It's almost nine years since Amazon first started delivering groceries in a suburb of its home city of Seattle - but now it looks set to bring its online supermarket-style service, Amazon Fresh, to the UK.
Amazon has remained tight-lipped about its plans, meaning the whats and hows of the launch are something of a mystery. In the last year, the retailer has stepped up other grocery services, such as Amazon Pantry, with a bigger product range and more promotional product activity - and in February it struck a deal with Morrisons to sell the supermarket's products.
But it seems clear that Fresh, which according to The Grocer will launch this month, will be a much larger, more ambitious offering. With the Amazon name behind it, can it change the shape of the UK grocery industry for good? What does Amazon need to do to make it work - and who stands to lose the most? Campaign spoke to six industry watchers to find out.
Amazon's history suggests it won't try to reinvent the wheel
Jim Prior, CEO at The Partners and Lambie-Nairn
You have to go back a long way in time to find something that really shifted the dial on the consumer experience in grocery: Ocado is 16 years old, Tesco Clubcard more than 20. So the time is ripe for a disruptive approach. It's started already - Hello Fresh and Gusto have emerged as genuinely different actors with a proposition that simplifies meal planning, shopping, cooking, and wastage issues all at once – with the added consumer value of being emotionally rewarding. These brands are not just an online delivery service, they are changing the role that food retail plays in our lives.
So Amazon's move is timely and interesting. The big question is, what is the nature of the service it will provide - simply a well-priced, more efficient online grocery offer, or a reinvention of the category to offer new benefits and experiences?
Amazon's history suggests it will be more the former than the latter; it's a brand built on availability and ease more than on making the unimagined real. They've succeeded not because they have astonished us with their creativity but because they have executed the obvious, spectacularly well. I suspect their move into groceries will follow a similar path.
Delivering fresh food at the right temperature will be critical
Phil Dorrell, partner at Retail Remedy
As the discounters have shown, with the right model there is potential to upset the balance of the grocery market. Amazon Fresh needs to do two things to make that happen. First, it must ensure it has the right ranges at the right price.
Second, it must be able to deliver fresh produce at speed straight into the customer's kitchen while keeping the goods at the right temperature. Trials in East London have reportedly been successful, but doing the same thing at scale is another matter and one that will take considerable investment in fleet and resource. Amazon has the capital behind it to support fast chilled home delivery, but will the customer consider the service good value for money?
How the Big Four respond will determine the pace of growth. Morrisons is in partnership with Amazon which protects it to some extent. Sainsbury's is backing click and collect as the biggest growth delivery option. Asda and Tesco will fight with the breadth of their grocery range.
Choice is important but as we have seen with the discounters, range is not the be all and end all. Price has been, and will continue to be critical - and Amazon knows this.
This is an opportunity to create brand new shopping occasions
Kate Jones, brand consultant and retail watcher
The prospects for Amazon are good - it has the money, the capability, presence in the UK and most importantly, really knows delivery. Not the online grocery delivery of 'pick a 2-hour time slot a couple of days from now' but real convenience, offering same-day and even two-hour lead times. This is a fundamental shift in consumer expectation.
Having a player like this in the market represents the online version of a convenience store – quick, smaller basket, less planned and there when you need it. It is this change in shopping behaviour that has caused the big four so many problems in recent years. There's a definite opportunity to offer new shopping occasions to new and existing online consumers - despite the inevitable teething problems and broken eggs, this could be the biggest thing in grocery retailing since Clubcard.
Lidl and Aldi are driving current grocery growth and neither has an online offer. The big four are only growing through their online arms – if I were them I would be pretty terrified at the prospect of Amazon throwing its hat in the ring.
Amazon goes deeper underwater, and everyone else follows
Andy Pemberton, director at Furthr
Amazon has one advantage that outstrips all competition: the singular ability to raise capital without the expectation of profits. Jeff Bezos does this by selling the big vision. He wants Amazon to be "the world's biggest store," making up 50% of everything you buy, delivered to your home within four hours of you ordering it. Bezos knew in 2007 that to do that, it had to "learn how to sell clothes and food" - the biggest industries in the world.
His tactics are simple: crush the competition with overwhelming value. The battleground is the massively expensive world of fulfilment. An extraordinary 75% of Amazon's expenditure goes on fulfilment and technology. What other retailer has spent half of that?
As one wag has put it, Amazon go underwater into the world of fulfillment, forcing every other retailer to follow - but with much smaller oxygen tanks. What happens next? Those competitors start to drown. UK online-only grocery store Ocado's days must be numbered.
But real profits remain in bricks and mortar. The thing that will finally make Amazon profitable is real-life stores. Once Amazon has squeezed British grocers, it will make its next move. It'll buy Morrisons.
Amazon now needs quality credentials for unbranded products
Rambaut Fairley, partner at OC&C Strategy Consultants
Amazon made its name as a retailer of other people's products, but will now need to find a way to build its quality credentials across typically unbranded food products. Quality perception is key, particularly where the retailer selects the product on behalf of the customer. Warehousing and delivering fresh food requires a totally different, and more expensive, setup, and its logistical empire in non-food won't give it much benefit over the likes of Ocado.
Amazon's areas of advantage are that it's fast, convenient and great value for money. But the dynamics are different in online grocery, where small basket sizes and too rapid delivery expectations would add up to negative returns for any retailer.
Which of its competitors feels most threatened will depend on how Amazon positions its offer – will it enter on price leadership or a superior service proposition? In a market that has already been heavily disrupted by the discounters and makes little money online as it is, a price leadership position backed by extensive range could be a big threat to the Big Four. A service-led position with tight, low cost delivery timeslots and guarantees on availability, would seem like a direct challenge to Ocado.
Success will come from a combo of platform, product and service
Will Jellicoe, strategist at the7stars
According to Mintel 6% of grocery sales were online in 2015 but that number is forecast to rise rapidly as we become more accustomed to food shopping from the sofa. More choice, competitively priced is good news for the consumer and bad news for both the established players, and online specialist Ocado whose shares sank 7.8% when Amazon announced their deal with Morrisons earlier this year.
Amazon's success has been rooted in price, and online there is nowhere to hide for supermarkets as consumers can compare prices readily to find the lowest. The competitive advantage lies in whoever most improves the online shopping experience for the consumer, with success (survival) coming from a focus on a triumvirate of platform, product and service.
Substituting in-store shopping for online rests in having a positive experience, to garner repeat usage. Maybe surprisingly, Amazon could learn from Iceland.co.uk, which was crowned best online supermarket 2016 by consumer watchdog Which? after a survey of 7,000 shoppers, scored on ease of finding products, drivers' service, product substitutions, availability of convenient delivery times and value for money.