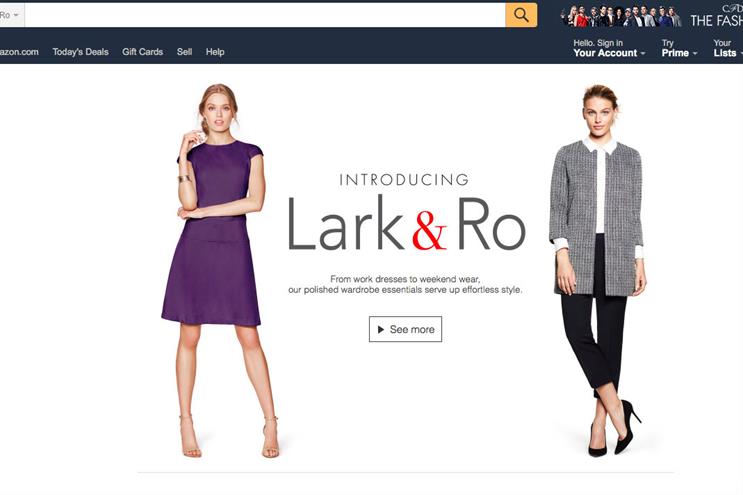 The e-commerce giant made its first foray into fashion in 2002 by partnering with retailers ranging from Gap to Footlocker, but almost 15 years later Amazon is still not seen as a fashion destination for most consumers.
But this could change as Amazon invests in seven own-label fashion brands, which were uncovered by KeyBanc Capital analyst Edward Yruma via their European trademarks.
Yruma says customers' engagement in fashion on Amazon remains low, with only 15% of its active customers shopping for fashion products on the site. But he revealed Amazon may be further along "to develop a private-label business than we had previously expected".
The seven private labels (see below) are selling around 1,800 products between them and Lark & Ro even has its own Amazon store.
| | | |
| --- | --- | --- |
| Brand | Category | Number of products |
| Franklin & Freeman | Men's dress shoes | 181 |
| Franklin Tailored | Men's suiting and accessories | 250 |
| James & Erin | Women's casual clothing | 195 |
| Lark & Ro | Contemporary women's clothing | 173 |
| North Eleven | Women's accessories | 388 |
| Scout + Ro | Children's clothing | 115 |
| Society New York | Women's dresses and handbags | 911 |
Source: KeyBanc/Amazon.com
Honor Westnedge, lead retail analyst at Verdict Retail, believes Amazon's push into own-label is integral to taking its fashion business to the next level because at the moment it is only viewed as a convenience destination rather than a "go-to fashion destination".
"Own label really is a way for Amazon to differentiate itself and increase margins," says Westnedge. "At the moment Amazon relies on specific brands that are willing to sell on Amazon."
It is believed Amazon's own-label brands have been launched specifically to fill gaps in its product offering, caused by not having a third-party brand signed up that sells in the appropriate product category and price range.
"We believe that Amazon will use private label selectively, which should both enhance the offering and induce traditional apparel vendors to sell to Amazon," says Yruma.
In other categories Amazon is thought of as the place to find products at the cheapest price, but in the less commoditised fashion sector, Amazon will need to focus its efforts on building strong brands for its own-label products.
Its Lark & Ro prices (see box) are not at the lower end of the market such as those offered by e-tailer Bohoo.
| | |
| --- | --- |
| Lark & Ro - dresses | Price |
| Ponte 3/4 sleeve sheath dress | $64.50 |
| Black & white print dress | $64.50 |
| Sleeveless fit and flare dress | $74.50 |
| Graphic lace short sleeve fit and flare dress | $74.50 |
| Sleeveless garden print dress | $59.50 |
| Sleeveless pleated flare dress | $69.50 |
| Leaf print short sleeve shirt dress | $59.50 |
| Sleeveless tropical print dress | $59.50 |
| Short sleeve bow tie dress | $69.50 |
| Short sleeve bow tie dress | $69.50 |
| Graphic lace short sleeve sheath dress | $69.50 |
Source: KeyBanc/Amazon.com
By positioning itself in the mid-market, Amazon will have to work harder on establishing a more premium brand rather than targeting consumers who are willing to take a punt on cheap goods.
"Amazon has a huge price architecture and a very broad customer base so they are able to push price points quite high," says Westnedge. "The challenge for them is no one has ever bought Amazon's own label before and it is not a brand that is recognised, if they are demanding high price points the look of the product, the feel of the product, the quality and design credentials all have to be displayed really well online to tempt customers to invest in that product."
Amazon is hard at work attempting to build its fashion credentials by sponsoring events including New York Fashion Week and the Met Ball, and opening a 46,000 sq ft fashion studio in London.
In the US it even ran a TV ad in 2013 in an attempt to improve perceptions of itself as a fashion house with a campaign that ran a 'Smart is Beautiful' strapline.
Amazon ran its first European digital campaign last year, which featured albino, tall, and to ditch conventional 'high-fashion' marketing. Meanwhile, last year it also hired Joint as its pan-European agency in a bid to boost clothing sales.
Westnedge believes another key to making its own-label offer compete with established fashion etailers such as Boohoo and Asos is through a major investment in how the product is presented online.
"Are people going to go there [to Amazon] to look for own label product?" says Westnedge. "I would say the answer is no unless they are given an enjoyable shopping experience with easy browsing, all the product shots should be on models and have 360 degree display, there should be outfit building and recommendation tools and there should be editorial content."
Amazon is clearly taking the need for more editorial content seriously based on it hiring Vogue editor Caroline Palmer in early 2015 to become director of editorial and social.
Meanwhile, it is also integral the own-brand product itself is on point and this requires major investment in a team with deep knowledge of design and supply chain.
There has been press speculation that Amazon has been in talks with former Marks & Spencer womenswear boss Frances Russell to develop its own-brand business.
Everything indicates Amazon clearly means business with its own-label proposition and its deep pockets should be of grave concern to fashion retailers.
Building a credible brand does however take time, which leaves the likes of Boohoo and Asos with a bit of breathing room.
"I think Amazon is very much on the radar of all fashion retailers, particularly in the UK where there is a very sophisticated online market for clothing," says Westnedge. "In terms of its own label proposition that turnover and revenue generated won't make an impact on the overall clothing market initially and it will take time until it builds up the loyal customer following."
Fashion retail is a hard sector to crack and even with all its money there is no guarantee Amazon will be able to establish itself as a credible fashion house.
If Amazon's latest venture is destined to fail it won't be through lack of effort or investment.