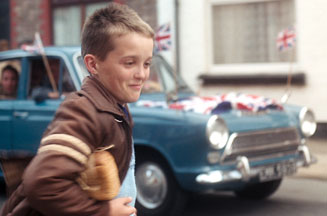 Radox, which launched a 'Be selfish' campaign to mark its centenary, and Sainsbury's, which has rolled out market-ing that celebrates its 140th anniversary, are just two such brands that clearly believe heritage is vital. As comfort food is the traditional refuge of the downhearted, so it appears that 'comfort brands' have benefited from the downturn. However, the question is whether this marketing truism holds water or is simply a worn-out cliche.

Will Galgey, managing director of trends research consultancy The Futures Company, believes that it does. 'It's definitely the case that people are retrenching to what they know and trust, and takes them back to times past,' he says. 'We've identified 10 key global energies; one of these is embracing the authentic, which means people want brands that feel grounded and real. We feel that is accelerating through the recession.'

As part of its research into how the downturn is affecting consumers, The Futures Company asked more than 2000 adults whether their trust had increased or decreased in a range of entities, from the government to mobile-phone providers.

In all cases, with the exception of discount retailers and independent stores on their local high street, respondents' trust had decreased. 'Paying more attention to local brands is a key aspect of the fact people are retreating. This suggests British brands are in a pretty good place in people's minds,' adds Galgey.

Certainly, some British brands seem to be reaping the success of a home-grown strategy. Hovis, for example, announced earlier this month that its 'Go on lad' ad campaign had contributed to a 3.5% increase its in market share and added £60m to the top line of the business. Country Life largely attributes its position as the UK's fastest-growing butter brand in value and volume last month to its British-themed marketing push fronted by ex-Sex Pistols front man John Lydon. Similarly, Butlins' guest numbers are 15% up on last year, which the holiday company puts down to its long British heritage, as well as the strength of the euro.

John Wood, managing partner at creative agency Libertine, works with Butlins. He warns that the heritage strategy will not work unless brands also offer value for money. 'People are looking for brands they trust, and heritage is one of the tools that marketers have, but it's not enough on its own,' he says. 'If you're not about value at the moment, then just bolting on a bit of heritage isn't going to help. However, for the brands that have heritage, it's a good time to think about using it.'
Value is about more than low prices, a point proved by the fact that many luxury brands are doing well despite the recession. For example, clothing brand Burberry's store-based sales, which account for nearly 60% of its business, were up 3% year on year in the first quarter of 2009. According to Alex Tibbenham, senior trend researcher at Fitch Design Consultants, this was due to the success of 'classic investment pieces' that outlive the latest fashion trends and so provide value through longevity.

By contrast, M&S' rich British history did little to help when consumers hit out against its higher prices for bigger bra sizes. 'This was all about perceived value-for-money and nothing to do with its 125-year history,' says Joel Biswas, senior strategist at consultancy Futurebrand. 'Delivering relevance and value to consumers remains paramount. Just look at Whittard's and Wedgwood - two nostalgic British brands that failed to demonstrate these qualities and so failed when tough times hit.'

Woolworths, another bastion of British-ness, could also be added to this list. By the same token, the non-British origins and lack of heritage of value brands such as Lidl does not appear to be hurting their profits.

The problem with banking on a patriotic brand strategy is that genuine support may be limited. A study by research agency HPI has revealed that only 24% of consumers agreed that during the recession they were trying to buy British, whereas 31% disagreed and 44% were indifferent. Similarly, a poll of 3000 people by Kyp Systems found that 39% of UK shoppers were more likely to ditch a brand to which they had been loyal if they could get a bargain on a rival brand's product.
Another problem with tapping into the British nostalgia trend is that it might already have worn thin. 'I'm beginning to groan whenever a sepia-tinged ad comes on, rehashing another load of old footage,' says Sarah Carter, strategy director at advertising agency DDB. 'There is going to be a backlash against them very soon. Some of it is done badly and for the wrong reasons. I wouldn't be surprised if there's a lot of confusion going on.'

She adds: 'Hovis did it first and best, but now these ads have lost their initial appeal and distinctiveness. Look at the Milky Bar ads. With their awkward kids and cowboys they don't look relevant to today's children.' Nevertheless, Carter concedes that it is still possible to differentiate a brand based on its heritage. She cites Virgin Atlantic's 25th anniversary ads and Waitrose's focus on supporting British producers as good examples. 'These brands are talking about Britishness in a contemporary way. It's important not to be lazy and adopt the same approach as everyone else,' she says.

With this retreat to the comfort of trusted British institutions the challenge for global brands is to demonstrate to consumers that they are interested in local communities and their issues. Nathan King, head of marketing for butters and spreads at Dairy Crest, does not believe the trend marks the end for global brands. '[These brands] bring more to the party than provenance' he says. 'However, brands that have no real superiority and come from outside the UK should probably be a bit nervous.'

King believes that the trend will outlast the recession. 'The 80s were very selfish, the 90s were a bit more holistic, and the noughties and beyond will be more community-based and back-to-basics,' he suggests. 'There are green shoots, but a lot of people have lost their jobs and there's still a lot of uncertainty. The economy will start picking up, but the mindset of the people will stay like this for quite a while.'