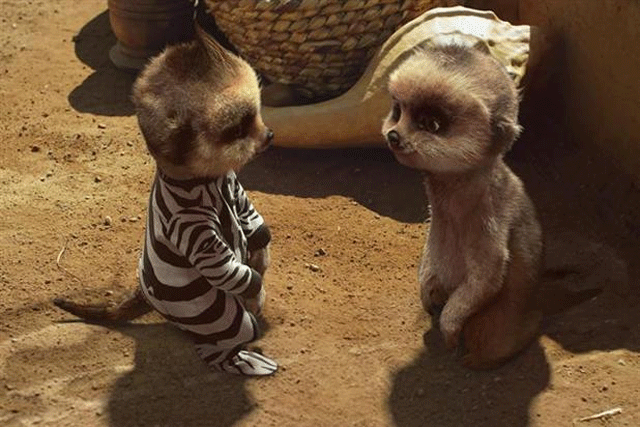 The choice of Comparethemarket.com as the first advertiser to run a Premium Video Ad campaign of this nature seems telling.
The Meerkat ads are generally well loved by viewers and having seen the campaign in my newsfeed yesterday evening, the experience is much more like a series of branded cartoons than what might be considered heavy-handed advertising.
And from what I saw, the user comments were positive: mainly fans of the Meerkats saying how much they like them, and very little to do with the experience of the ad format itself.
In many ways this is a "soft" introduction to autoplay video ads on Facebook for users, who will see a campaign that seems to be to be tailored to work in the newsfeed – more as a piece of published content than a traditional 15- or 30-second ad.
Given that the Facebook Creative Shop was involved in tailoring the video material for the campaign, it looks like Facebook will act carefully to try and run the right kinds of campaigns to protect the user experience.
Branded entertainment from well-liked brands and film trailers, for example, are probably pretty safe areas.
It remains to be seen to what extent they will feel comfortable in running ads that are more nakedly commercial or promotional through autoplay video – will they want to run campaigns for sofa sales, for example?
And this, of course, will be the ultimate litmus test for Facebook advertising versus TV (assuming that it's Facebook's long-term ambition to pitch for a slice of TV budgets). Does it have the versatility to run promotional campaigns alongside big brand spots, in combinations of short and long copy?
Facebook has been slowly getting users accustomed to autoplay video in their newsfeeds.
Since advertising is very clearly part of the newsfeed experience on Facebook, I don't believe the appearance of Comparethemarket.com's new auto-play video campaign in their newsfeeds will seem unnatural enough to provoke a bad reaction from users.
Much like they've done with Sponsored Stories in mobile newsfeeds, I suspect Facebook will be frequency-capping the extent to which any one user might be served autoplay video ads. So overall, the gradual and controlled management of user experience by Facebook will mean that this will just feel like another, not unexpected, newsfeed ad experience for users.
The key question for me is to what extent will Facebook be open to running any and all video campaigns in a TV-like way?
What user quality controls they put in place for new brands, and how they assess this might impact on user experience as we move beyond the first trial campaigns.