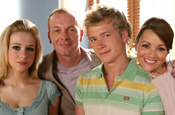 Michael Grade was bullish in defending a 35% fall in profits for 2007, his first year at the helm of the troubled broadcaster, claiming that his new vision for ITV was working. Apparently, 2007 was "the year we stopped the decline". Long-suffering shareholders may think otherwise.

Last September, nine months into his new role as executive chairman of ITV, Grade unveiled his five-year plan for a "content-led recovery" for the broadcaster. Declining profits aside, there is some evidence to support Grade's insistence that ITV is making good headway in this recovery.

Last year marked the first increase in viewing share for ITV since 1994. The lift was a mere 0.1%, but for Grade it is much-needed evidence his strategy is on the right track.

He says ITV is "outperforming the market" with a 2% increase in ad revenues for Q1 2008 on the back of a flat 2007. ITV1 also claims to have increased ABC1 impact volumes by 1.2% in 2007, in contrast to declines at Channel 4 and Five. "ITV is expected to remain up for the first third of the year," says Grade. "And we are well positioned to hold share (at 41.5%)."

But rivals say Grade is masking a "less-than-rosy" performance at ITV1 so far this year. ITV1's audience share fell 2.5% year on year to 19% for the first seven weeks of 2008, with peak and ABC1 audiences both down. During the first 20 days of February, ITV1's share of impacts fell 6.2% year on year.

Stemming the decline
One rival sales chief opines: "Grade promised results. He has stemmed the decline, but a lot of that is due to digital growth anyway. Has Grade done anything dramatic? Probably not."

Ad revenue from ITV's digital channels increased a third to £209m for 2007. Grade wants ITV2 to be the number three commercial network for 16 to 34s and is investing £20m in the channel for original peak-time content. It had a 5.6% share for their sought-after demographic in January, compared with 6.2% for E4.

Despite widespread criticism that the new schedule for ITV1 has underperformed, Grade insists that "viewers are pleased and advertisers are pleased".

But agencies claim Grade's scheduling changes are not doing Gary Digby and his sales team any favours. Universal McCann broadcast account director Simon Prendiville says: "They may have decent programming, but the sales team should be saying don't put that on there and they might get more commercial value. There is no point in putting Moving Wallpaper and Echo Beach on a Friday night - they are too bold for the peak-time schedule."

Grade says: "We are not talking about the schedule on the basis of one or two shows. Not all the shows have worked strongly, but it is hard to launch new shows today. The schedule Simon Shaps inherited was tired and predictable. We've come a hell of a long way in the last year."

Where ITV was once criticised for being slow to develop online offshoots, Grade's plan for this part of the business is set for more immediate development. With a target of £150m in online revenues in the next two years, Grade says 2008 is a year of "self-funded investment".

ITV.com, which relaunched as a video-enabled site last year, generated £11m in 2007, a 57% increase on 2006. Grade says there are "huge opportunities to deliver huge traffic online and to monetise that".

ITV is gearing up for the launch of VoD service Kangaroo, a joint venture with BBC Worldwide and Channel 4. Kangaroo will allow users "to dig deeper into ITV's archived content", says the broadcaster.

Boosting digital
Analysts expect ITV to relaunch Friends Reunited, which increased revenues by 36% during the year, as a free site later in 2008. ITV admitted there would be a "reduced emphasis on subscription fees" and an increased focus on advertising, but remains cagey about its plans.

But UKTV's executive director of business and operations, Julia Jordan, says of ITV's online activity: "It is a question of when does the commercial return follow the investment. How do you attract revenue into the business, but more importantly is adding value back to the core proposition."

Nevertheless, analysts are optimistic of progress this year. Deutsche Bank analyst Paul Reynolds says: "ITV has gone from nowhere to somewhere in 12 months and it has until 2010 to hit the target. It is an optimistic target, yes, but it is in a stronger position now."

ITV: 15 MONTHS OF GRADE
28 November 2006: Share price 110.75p - Michael Grade appointed new ITV executive chairman
30 March 2007: 109p - ITV wins rights to broadcast FA Cup and England internationals for four years from the start of the 2008/09 season
23 May 2007: 116.5p - Ex-Sky boss Dawn Airey joins as director of global content
12 September 2007: 110.9p - ITV Strategy Update 2007
26 September 2007: 102.1p - ITV announces appointment of Rupert Howell as managing director, ITV brand and commercial, replacing Ian McCulloch who left in the summer
5 December 2007: 82.8p - ITV acquires the independent producer 12 Yard for £26m
2 January 2008: 84.2p - New look for ITV1 unveiled, with return of News at Ten preceded by a one-hour drama slot at 9pm on weekdays and a light entertainment-focused weekend schedule
28 February 2008: 68.7p - Grade extends his executive chairmanship until end of 2010; Airey and Howell appointed to main board; director of TV Simon Shaps announces he is quitting to be replaced by Peter Fincham
5 March 2008: 67.4p - Results for the year ended December 2007: pre-tax profits fall 35%, revenues fall 5%.